A Single Vote Just Drastically Shifted Balance of Power in Virginia's House Of Delegates (UPDATED)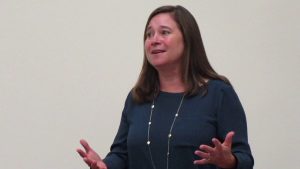 Does every vote count? The answer it turns out is a resounding yes!
In Virginia, a recount has just flipped a seat in the House of Delegates to the Democrats, bringing to an end to Republican control of that chamber after 17 years.
But amazingly, the margin of victory for Shelly Simonds was just one vote, reports NPR.
Republicans have controlled the House of Delegates since 2000, and Simonds' victory means the parties will now be split at 50-50. No tie-breaking procedure is in place, meaning that any measure that doesn't get 51 votes does not advance.
Simonds ousted GOP incumbent David Yancey by a count of 11,608 to 11,607. Yancey actually led after Election Day by the razor-thin margin of 11,601 to 11,591, but Tuesday's daylong recount in Newport News changed that.
Republican leaders in Virginia penned a statement saying they are "ready to establish a bipartisan framework under which the House can operate efficiently and effectively over the next two years."
The GOP still controls the state Senate, but by a slim 21-19 edge. The shocking development may help state Democrats pass Medicaid expansion in next year.
"We are one vote closer to expanding Medicaid and extending access to affordable health care to nearly 400,000 people," House Democratic leaders wrote. "Let's get this done."
The final results are expected to be certified by the state Supreme Court on Wednesday.
UPDATE –– 12/20, 2:44 pm ET: Just one day later, an additional ballot was counted for the Republican, which means it's now a tie:
Ballot is counted. We have a tie.

— Jordan Pascale (@JWPascale) December 20, 2017
[image via screengrab]
Have a tip we should know? tips@mediaite.com