Aaron Sorkin Blames the Media for Somehow Forcing Sony to Cancel The Interview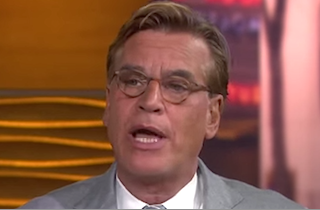 Screenwriter Aaron Sorkin, who has been one of the figures at the center of the Sony hack story after emails between him and studio co-chair Amy Pascal, has weighed in on the news that The Interview's theatrical release has been canceled with a bizarre statement that appears to blame the media for publicizing the hacked material in the first place.
Two days ago, Sorkin penned an op-ed in The New York Times that accused media outlets that published information obtained in the leak "morally treasonous" and determined there was nothing "newsworthy" in the content of the hacked emails.
Now, even while he laments the loss of freedom of speech inherent in Sony's decision not to release the film at the center of the controversy, Sorkin attacked the press for being at least partly responsible for fulfilling the "wishes of the terrorists."
Below is his statement in full, via Deadline:
"Today the U.S. succumbed to an unprecedented attack on our most cherished, bedrock principle of free speech by a group of North Korean terrorists who threatened to kill moviegoers in order to stop the release of a movie. The wishes of the terrorists were fulfilled in part by easily distracted members of the American press who chose gossip and schadenfreude-fueled reporting over a story with immeasurable consequences for the public–a story that was developing right in front of their eyes. My deepest sympathies go out to Sony Pictures, Seth Rogen, Evan Goldberg and everyone who worked on The Interview."
While the media's decision to publish elements of the hacked material may have given the "terrorists" some of what they wanted, Sony deciding not to release the film gave them everything they wanted. And despite Sorkin's best efforts, it's hard to blame the media for that.
[Photo via screengrab]
— —
>> Follow Matt Wilstein (@TheMattWilstein) on Twitter
Have a tip we should know? tips@mediaite.com