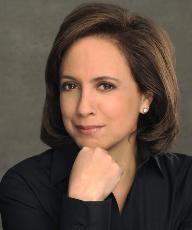 ABC News business correspondent Betsy Stark is the latest journalist cut today by the network as it looks to trim roughly 20% of the entire news division, meaning hundreds of jobs lost through buyout or layoff.
Stark had been with the network for 12 years. More details and her goodbye note to staff inside.
In her email, Stark described a recent story she reported for ABC:
It is ironic, I think, that one of my last stories here was about professionals in mid-life forced by a layoff to reinvent themselves. They didn't romanticize the process and neither will I. But they prove what I believe to be true—that second acts are possible—and it is exciting to consider the possibilities beyond this job that I have loved and which I have worked hard to do well.
An ABC insider tells TVNewser, "Everybody adores Betsy. She's a class act."
Stark joins other ABC correspondents like Brian Rooney, Laura Marquez and Lisa Daniels who were cut last week. Expect more big names to be leaving the network as April progresses.
Here's the internal note Stark sent this morning:
From: Stark, Betsy
Sent: Friday, April 02, 2010 11:25 AM
To: #ABCTV Business News
Subject: A Personal Word

To my dear colleagues at ABC News:

After years of reporting the jobs story on the first Friday of the
month, today I find myself the story rather than the reporter. ABC
has decided to let me go.

Others who have gone before me have said what bears repeating now: I
hold you, my colleagues, in the highest regard. Your talent, your raw
intelligence, your commitment to getting it right, your grace under
impossible pressure and, at all the times it mattered most, your
friendship, have made my years here a privilege.

It is ironic, I think, that one of my last stories here was about
professionals in mid-life forced by a layoff to reinvent themselves.
They didn't romanticize the process and neither will I. But they
prove what I believe to be true—that second acts are possible—and it
is exciting to consider the possibilities beyond this job that I have
loved and which I have worked hard to do well.

I will miss you. Don't be strangers.

Betsy
Have a tip we should know? tips@mediaite.com