ABC News Defends VP Debate Moderator Martha Raddatz From Accusations Of Political Bias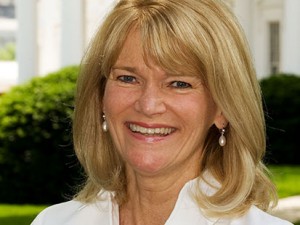 ABC News' Martha Raddatz will be moderating the vice presidential debate this week between Joe Biden and Paul Ryan, but conservative critics have spoken out against the choice of Raddatz, alleging she has a clear political bias. Back in August when she was announced as moderator, the conservative blogosphere quickly ran post after post arguing that Raddatz is too biased to be an objective moderator. With the spotlight back on Raddatz this week, and given how critical the media was of Jim Lehrer last week, ABC News is getting ahead of the game and defending Raddatz's objectivity.
One of the key pieces of evidence highlighted by blogs like The Daily Caller was the fact that Raddatz was once married to Julius Genachowski, the man whom President Obama appointed to head up the Federal Communications Commission.
Blogger Andrew Sullivan wrote earlier today that The Daily Caller is currently working on a piece to further discredit Raddatz's objectivity by going through her marital history, in a post Sullivan titled "The Decline And Fall Of Tucker Carlson." Carlson responded with the following statement to TVNewser: "Andrew Sullivan is a nutcase. Please quote me."
Whether or not the Caller is actually working on such a story remains to be seen, but ABC News has already stood up to defend Raddatz against accusations of being too closely tied to the Obama administration.
"This is absurd. Martha Raddatz is known for her tough, fair reporting, which is why it was no surprise to her colleagues inside and outside ABC News that she was chosen by the Commission on Presidential Debates for this assignment. Barack Obama was a law school classmate of Raddatz's ex-husband Julius Genachowski at Harvard. At the time Barack Obama was a student and president of the Law Review. He attended their wedding over two decades ago along with nearly the entire Law Review, many of whom went onto successful careers including some in the Bush administration. Raddatz and Mr. Genachowski divorced in 1997 and both are now remarried."
Meanwhile, Raddatz herself has been trying to avoid seeing pre-debate criticisms on Twitter. Carlson, in the wake of his site running a story last week featuring a 2007 video of Obama speaking, told The Daily Beast yesterday that he finds it "contemptible" that many in the media ignored the video because their "initial impulse" "is to suck up to power."
h/t MediaBistro
Have a tip we should know? tips@mediaite.com
Josh Feldman - Senior Editor