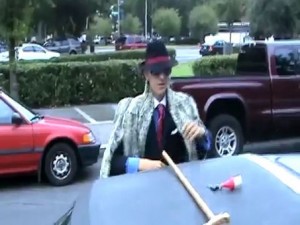 James O'Keefe — the upstart investigative filmmaker whose undercover video work got ACORN's federal funding stripped — has been arrested by the FBI in Louisiana for attempting to wiretap the offices of Democratic Senator Mary Landrieu, according to the Times-Picayune. The paper is reporting that the FBI arrested O'Keefe and three others — Stan Dai, Joseph Basel and Robert Flanagan — two of whom dressed as telephone company workers to tap the Landrieu's office telephone system. O'Keefe was reportedly posted inside the office and claimed to be "waiting for someone to arrive."
Politico has the FBI affidavit available here.
Mediaite first chronicled O'Keefe's rise to prominence when he posed undercover as a pimp looking for ACORN financing to run his fake prostitution ring, which resulted in the U.S. Census stopping work with the group. He also wore a pimp costume on Fox News, prompting us to interview some of O'Keefe's former classmates to learn more about the man who brought such attention to himself and the then-newly launched BigGovernment.com.
O'Keefe had given a speech last week to Libertarian Pelican Institute for Public Policy in New Orleans, where he discussed "the role of new media and show examples of effective investigative reporting," according to the paper. Now, it seems he took his undercover investigations too far. You could even say he got a little too big for his costume britches.


UPDATE — Andrew Breitbart provided Politico with the following comment:
"We have no knowledge about or connection to any alleged acts and events involving James O'Keefe at Senator Mary Landrieu's office. We only just learned about the alleged incident this afternoon. We have no information other than what has been reported publicly by the press. Accordingly, we simply are not in a position to make any further comment."
A Press Release from the US Attorney's Office, Eastern District of Louisiana:
United States Attorney's Office

Eastern District of Louisiana

FOR IMMEDIATE RELEASE CONTACT: KATHY ENGLISH

TUESDAY, JANUARY 26, 2010 PHONE: (504) 680-3068

WWW.USDOJ.GOV/USAO/LAE FAX: (504) 589-4978

FOUR MEN ARRESTED FOR ENTERING GOVERNMENT PROPERTY UNDER FALSE PRETENSES FOR THE PURPOSE OF

COMMITTING A FELONY

NEW ORLEANS, LOUISIANA – JOSEPH BASEL, age 24, ROBERT FLANAGAN, age 24, JAMES O'KEEFE, age 25, and STAN DAI, age 24, were charged in a criminal complaint with entering federal property under false pretenses for the purpose of committing a felony, announced the United States Attorney's Office for the Eastern District of Louisiana.

According to the complaint, which was unsealed earlier today, the arrest of FLANAGAN, BASEL, O'KEEFE, and DAI took place after BASEL and O'KEEFE attempted to gain access to the New Orleans office of United States Senator Mary Landrieu on January 25, 2010, while posing as telephone repairmen. According to the complaint, FLANAGAN and BASEL were each dressed in blue denim pants, a blue work shirt, a light green fluorescent vest, a tool belt and a construction-style hard hat when they entered the Hale Boggs Federal Building, located at 500 Poydras Street, New Orleans, Louisiana 70130. Once in the building, FLANAGAN and BASEL sought access to the offices of Senator Landrieu. O'KEEFE was already present in the office, holding a cellular phone so as to record FLANAGAN and BASEL. Once inside Senator Landrieu's reception area, FLANAGAN and BASEL told a member of Senator Landrieu's staff that they were telephone repairmen, and they requested access to the main telephone at the reception desk. FLANAGAN and BASEL then manipulated the telephone system. FLANAGAN and BASEL next requested access to the telephone closet because they needed to perform work on the main telephone system. They were directed to the main office of the United

ineStates General Services Administration, also inside the Hale Boggs Federal Building, where they again represented themselves to be employees of the telephone company and stated that they needed to perform repair work in the telephone closet. Both FLANAGAN and BASEL stated that they had left their credentials in their vehicle. In addition, the complaint alleges that O'KEEFE and DAI assisted FLANAGAN and BASEL in the planning, coordination, and preparation of the operation. The men were apprehended by the United States Marshal's Service soon thereafter.

If convicted, FLANAGAN, BASEL, O'KEEFE, and DAI each face a maximum term of ten years in prison, a fine of $250,000, and three (3) years of supervised release following any term of imprisonment.

The United States Attorney's Office reiterated that the complaint is merely a charge and that the guilt of the defendant must be proven beyond a reasonable doubt.

The investigation is being conducted by Special Agents of the Federal Bureau of Investigation and Deputy Marshals with the United States Marshal's Service. The case is being prosecuted by Assistant United States Attorney Jordan Ginsberg.

* * *
Have a tip we should know? tips@mediaite.com