Across The Aisle… And The Pacific: Alaska Republican Endorses Hawaii Democrat For Senate Seat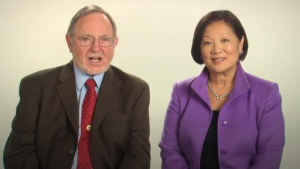 Republican congressman Don Young has made an endorsement in this year's Senate race in Hawaii: Democratic congresswoman Mazie Hirono. Young even filmed an endorsement ad for Hirono, saying that while they don't agree on much, Hirono is someone who "doesn't just talk about bipartisanship but actually knows how to work" with both parties "to get things done."
RELATED: Matthews: How Can Democrats Compromise With Anti-Immigrant, Tax, Science, Climate Republicans?
Hirono is running for the Senate seat currently held by retiring senator Daniel Akaka. If Hirono wins the Democratic primary, she will likely face off against former Hawaii governor Linda Lingle.
In the ad, Hirono touts that in order to work together with Young in Congress, she had to buck her own party leadership, to which Young adds, "that Nancy Pelosi is one stubborn…" Hirono immediately interrupts him. Later on in the ad, Young tries to jokingly bring up Pelosi again, but Hirono interrupts him to say "I approve this message."
ABC News points out that this is the second time in the past week that a Republican in Congress has crossed party lines to support a Democratic colleague. Oklahoma senator Tom Coburn recently donated $250 to the reelection campaign of West Virginia senator Joe Manchin. Coburn explained his support by saying, "We don't agree on everything but he's a good guy."
Watch Young's endorsement ad below:
UPDATE: Lingle has responded to the ad with this statement.
"It should be troubling to the people of Hawaii that Mazie Hirono's first attempt to convey any example of bipartisanship is a video advertisement with one of the House of Representatives's most controversial members, who even Mazie's fellow Democrats have criticized on a range of ethics and spending issues… This is not the leadership Hawaii needs."
—–
Follow Josh Feldman on Twitter: @feldmaniac
Have a tip we should know? tips@mediaite.com
Josh Feldman - Senior Editor