After Saying He'll Still Be 'Happy' If He Loses, Trump Says Not Winning Will Make Campaign a Waste of Time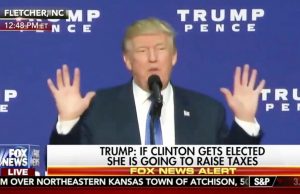 During a number of campaign stops throughout the summer and fall, Donald Trump has said that if he loses in November, his campaign will have been a huge waste of time, money, and energy. Today, during a campaign stop in Fletcher, North Carolina, he said that if he loses, he'll still be "happy" with himself for all of the effort he put in.
"We're gonna do this for another 19 days, right up until the actual vote of November 8," he said. "And then I don't know what kind of shape I'm in but I will be happy and at least I will have known, win, lose, or draw — and I'm almost sure if the people come out we're gonna win — but I will be… I will be happy with myself."
Sounds kind of like he moved away from the "waste of time" talking point, right? Maybe like he contradicted himself?
Well, don't worry. Just minutes after saying that he'd still be happy if he lost, he said, "We gotta win. What a waste of time, if we don't pull this off!"
He went on to say that he has $100,000 of his own money invested in his account. He followed that up with, "If I lose, I will consider this — "
He was likely going to finish that thought with "the biggest waste of money," as usual, but he went off on a tangent about unfair political ads and never finished the thought.
[image via screengrab]
Have a tip we should know? tips@mediaite.com