After Twitter Feud, Jason Whitlock Interview of Shaun King Devolves Into Total Sh*tshow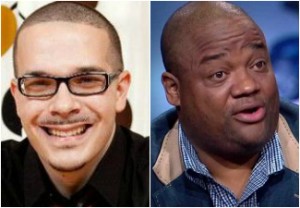 After an angry and racially-tinged Twitter feud between The New York Daily News' Shuan King and Fox Sports' Jason Whitlock, King agreed to be interviewed when Whitlock guest-hosted The Herd with Cowherd Friday.
What followed was thirty minutes of back-and-forth accusations of sexism, racism, workplace harassment, bullying, journalistic fabrication, race treachery, fraud, theft, white supremacy, and fake blackness. To help out our readers, we at Mediaite have annotated the juiciest parts of the exchange, but we strongly encourage readers to listen to the entire gruesome ordeal.
(00:00) Right off the bat, King tries to call in the show three times, only to have Whitlock hang up on him every time when King starts to make a personal attack. Whitlock explains that he's having King on to discuss his Peyton Manning article, not to continue their Twitter feud
The fourth time, Whitlock lets King finish his opening statement: "You do have a demonstrated history of bullying and sexism." King cites accusations from his former assistant Erin Buker that he shamed and abused her for being a woman. He argues that this makes Whitlock incapable on viewing the sexual harassment allegations against Manning through an unbiased lens.
(16:48) After Whitlock continually denigrates King's journalistic chops, King points out that Whitlock once tried to recruit him, even inviting him to his office for a one-on-one interview.
Whitlock immediately shoots him down, saying he only interviewed him and never offered him a job. "I thank God daily I did not take that job," King shoots back.
(17:52) Whitlock tells King that the reason he didn't hire him is because he looked into stories he posted and decided they were probably fabricated. "We tried to vet out the amazing stories you told, and we could not vet those stories," he says.
In particular, Whitlock says King wrote a story claiming when he was 14, the rapper C-Bo came to a restaurant in Kentucky and got in a shootout. King supposedly was present at the event and had to run out the backdoor. Whitlock told King his staffers couldn't track down a police record or news reports of the shootout, despite King's strong insistence it actually happened. "I'll stake my entire life on that story," King responds.
(20:02) Whitlock brings up the criticism of King's handling of his charities for black causes, in particular his charity Justice Together. When King argues that everything was above the board, Whitlock points out that even Black Lives Matter icon DeRay McKesson criticized his handling of money that was supposed to go to the families of the victims of police violence.
King denies McKesson every criticized him. "The Black Lives Matter organization, DeRay is not the president of that," he notes.
(25:40) King to Whitlock: "You are the guy white folks prop up to tear down blacks folks and their movement!"
(26:40) King takes on Whitlock's criticism of Beyonce's Super Bowl halftime performance, which Whitlock called "cowardly": "You and the Klan believe that performance was cowardly! Jason Whitlock and the Klan!" King says.
(27:50) Whitlock slyly refers to the allegations that King isn't actually black: "My parents, both black. My birth certificate, my existence, black. I'm not under some identity crisis where I'm trying to prove something to people over Twitter who I am."
(29:50) King accuses Whitlock of sexism again, noting that in his entire tenure at ESPN, not a single woman wrote for him. Whitlock counters that he hired women as editors, which King notes is a tacit admission that he never published a story written by a woman. King again points to the incident when Whitlock fired his female assistant for "speaking out of turn," which even ESPN admitted violated policy.
(31:10) King and Whitlock argue about who is blacker.
(32:30) Whitlock drops all pretense, and straight-up calls King a white dude. "I'm equal opportunity about who I go after. That's why I go after a white guy at The New York Daily News masquerading, working on his identity issues through Peyton Manning and others."
Listen above, via Fox Sports.
[Image via screengrab]
——
>>Follow Alex Griswold (@HashtagGriswold) on Twitter
Have a tip we should know? tips@mediaite.com