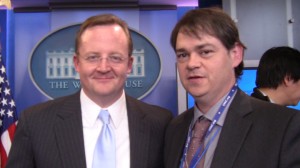 Shortly after Friday's intense White House briefing, during which President Obama delivered warm remarks about outgoing Press Secretary Robert Gibbs, followed by a grilling on Egypt peppered with encomium and chop-busting for Gibbs, the entire press office returned to the briefing room for a final Bundt cake-and-champagne-fueled send-off by the press corps. Do we know how to party, or what?

The bulk of the celebration was off-camera, as press aide Katie Hogan would only let us film for the first couple of minutes, but here is exclusive video of the beginning of the briefing-room bash:
Reuters correspondent Karen Bohan then spoke on behalf of the press corps, praising Gibbs for standing up for us on several occasions, and pushing hard to arrange a press conference with Chinese President Hu Jintao, while acknowledging that the sometimes-adversarial relationship between press secretary and press corps was a function of each just doing their job.
She also praised Gibbs' sense of humor, specifically mentioning his willingness to make good on a bet to wear a Canadian hockey jersey to a briefing, to which Gibbs replied, "There are very few (press secretaries) that are stupid enough to bet with the Canadians about hockey."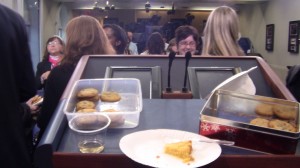 Bohan then presented Gibbs with a bottle of Veuve Cliquot champagne, and (what else?) a Robert Talbott necktie.
Gibbs responded with the following remarks:
Robert Gibbs: Let me just say that there's a unique relationship between this side and that side, but even when we come in here and we do what we do, and we spar, and we…you push, and I push, I think we all do it with all the mutual respect that has happened in this room, and in this building, for so long.

It is, as you mention, we talk about the values of freedom  of speech, and freedom of communication a lot over the past few weeks, I always had fun doing this…

Tommy Christopher: Always?

Robert Gibbs: I will say that there were days, a lot of them, where you picked up the newspaper and thought, "Boy, at about 1:30, it's gonna suck," (laughter) but I do think that this exercise, happening every day, or almost every day, I think we finished our 250th briefing today, makes the government that we have a whole lot better for the people that are represented by it, because each and every day, you get an opportunity to question, and we get an opportunity to discuss, why we do certain things.

And we've seen, over the course of the past couple of weeks, that that is not always the case throughout the world. I think it makes the institution of the American government stronger, it makes the White House and the press, it makes it stronger, and I think it will outlive any of us in this room, and I think that's a very good thing.

Like I said, I very much enjoyed this. I won't lie and tell you that I'm not looking forward to a little bit less hectic pace, I do look forward to watching Jay (Carney) next week, (laughter) and doing it in a way that's much more relaxed.

Again, thank you all. I meant what I said, that you all are a big part of my experience over the past 2 years here, 4 years between here and the campaign, and folks like Lynn (Sweet) who we've been battling back-and-forth for going on 7 years now…

Lynn Sweet: Yes. (laughter) Since the summer of 2004…

Robert Gibbs: …since the summer of 2004. So, thank you again  for what you do. There's a serious respect for what you do, and we understand that. just like we're here late every night, or early every morning, folks that are here early on a Saturday or early on a Sunday, we know the strains that it puts on you all, just like it puts on us.

So, thank you, and good luck to all of you, too. (applause)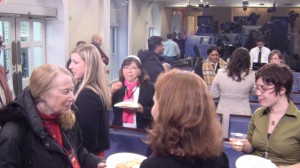 I asked Gibbs if he had gotten a new Twitter handle yet, to which he responded that he has, but he's not sure when he'll be rolling that out.
Gibbs then popped the cork on that Veuve Cliquot, and we all milled around drinking, and eating the homemade Bundt cake (which was, ironically, a home run) and chocolate chip cookies. An audacious pairing, if you ask me.
Many of us also said our own personal good-byes to Gibbs. On that score, I've written plenty about my professional admiration for Gibbs, but on a personal note, the two years I've been covering the White House have been, and continue to be, a steep learning curve. I've gotten a lot of help from my colleagues, as well, but Robert Gibbs has also been more patient and accommodating of that learning curve than I ever could have wished for, or deserved. Ethan Gibbs' gain is our loss.
Have a tip we should know? tips@mediaite.com