Al Bundy and Leslie Knope: Twitter Picks the #BetterFictionalCandidates Over Clinton, Trump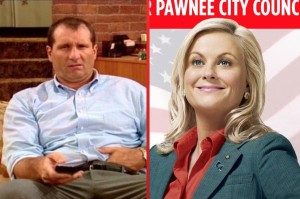 Let's take a quick look at the newest unfavorables to emerge regarding both major party nominees, shall we?
On the Democratic side, former Secretary of State Hillary Clinton has a 40.6 favorable rating according to the newest data from Real Clear Politics, and a 53.9% unfavorable.
As for Donald Trump, friend of babies and recent Purple Heart, uh, "recipient", RCP puts his favorable rating at 35.3, with 57.9% unfavorable.
Ladies and gentlemen, your 2016 nominees.
It's no secret that we're dealing with two vastly unpopular candidates in reality, so sometimes turning to fiction can cure the ills of our real world politics. Enter the newest hashtag to sweep social media this morning: #BetterFictionalCandidates, Twitter's attempt to present anyone — and I mean anyone — better suited to lead than Clinton or Trump.
Here are some of the best of the day:
Vote for Knope. #BetterFictionalCandidates pic.twitter.com/WlystkkIXN

— Tess (@tessbonn) August 4, 2016
#BetterFictionalCandidates Jon Snow. Because winter is coming! pic.twitter.com/pN8lhFbt7P

— Darlene Anderson (@moodigirl16) August 4, 2016
#BetterFictionalCandidates: Morgan Freeman as President Tom Beck in the movie, "Deep Impact." pic.twitter.com/0yZ5rDd3bf

— Jermaine Watkins (@JermaineWatkins) August 4, 2016
#BetterFictionalCandidates
Rufus T Firefly pic.twitter.com/OaqS4jgduK

— Tim Fox (@Timmy_Fox) August 4, 2016
MySpace Tom isn't doing too much these days. #BetterFictionalCandidates pic.twitter.com/eq5fp0o4h1

— Southern Spitfire (@ErinLea7) August 4, 2016
Beevis and Butthead #BetterFictionalCandidates pic.twitter.com/G8MzQix0ZB

— Stevius the Great (@polit_uncorr) August 4, 2016
#BetterFictionalCandidates Mayor Adam West. pic.twitter.com/23rAujA8xp

— Rod Zilla (@RodZill11318501) August 4, 2016
Atticus Finch #BetterFictionalCandidates @vbspurs pic.twitter.com/lgfelv8A9K

— Mark Daniels (@MARKJDANIELS) August 4, 2016
Al Bundy …
FIRST LADY = Peggy Bundy#BetterFictionalCandidates pic.twitter.com/9Z57E9Km59

— Queenie (@SinCityChiGirl) August 4, 2016
#BetterFictionalCandidates Al Bundy pic.twitter.com/QRVIqhl6bT

— Dave Christy (@Dave60772) August 4, 2016
President James Marshall ??#BetterFictionalCandidates pic.twitter.com/6mAZ11MBhW

— Jason Spellman ☠ (@JasonSpellman) August 4, 2016
Ferris Bueller seems up to it. Especially w/ Ben Stein as economic advisor.#BetterFictionalCandidates pic.twitter.com/bW58iJAznV

— Rick G. Rosner (@dumbassgenius) August 4, 2016
Have a tip we should know? tips@mediaite.com