Erickson Angrily Tears Into Trump Boosters: You 'Reflect the Evil Character of Your God'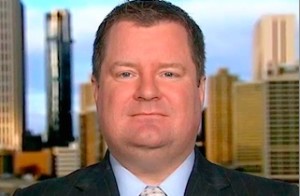 Erick Erickson has been a #NeverTrump conservative for a while now, but something Trump said today finally pushed him to a place of extreme anger at his boosters.
Erickson was set off by Trump defending his position on NATO in kind of an unbelievable way. Trump complained about his critics asking him about a NATO ally––"a smaller one that nobody in this room's ever heard of"––getting attacked by Russia and how the U.S. would respond.
Trump said, "'Are you saying you're not gonna protect em?' I say, 'Well, let me ask you: have they paid?'"
Everyone in that room cheered, but surprisingly, a lot of people have a problem with a Goodfellas approach to aiding our allies.
It angered Erickson that Trump would turn NATO into "a damn shakedown scene," and in his post for The Resurgent, he goes after the people "cheering him on":
You should be ashamed of yourselves. You should be ashamed of the fact that your cult leader who claims to have been personally affected by 9/11 does not even know our NATO allies protected his ass that day. You should be ashamed that he wants to turn one of the strongest military alliances in the history of the world into a racket where protection is bought. You should be ashamed that you are not ashamed…

You people reflect the evil character of your god. You should be ashamed, but you have no shame left. You all deserve to be defeated and annihilated. You disgust me in cheering him on. He disgusts me.
Erickson brought up how the only time that Article 5 of the NATO treaty––an attack on one is an attack on all––was used was on 9/11. He spoke of how great it was to see the entire alliance rallying around the United States to stand up and help defend us.
"Donald Trump can go to hell," Erickson concluded, "and perhaps you will do the rest of us a favor and follow him there. Shame on you all. Shame on you."
[image via screengrab]
— —
Follow Josh Feldman on Twitter: @feldmaniac
Have a tip we should know? tips@mediaite.com
Josh Feldman - Senior Editor