Al Sharpton Radio Show Guest: O'Reilly, Hannity, Don Lemon 'Professional Assassins Of African-Americans'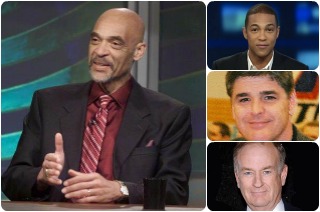 Earl Ofari Hutchinson, journalist, radio host, and frequent MSNBC guest, appeared on Rev. Al Sharpton's radio show on Monday where he weighed in on the controversy surrounding Fox News Channel hosts Bill O'Reilly and Sean Hannity and CNN anchor Don Lemon's criticisms of some aspects of African-American culture. Hutchinson told guest host Bob Slade that people like O'Reilly and Lemon are "paid," "professional assassins of African-Americans" and they should be ignored.

"We're wasting our time with the, you know, the Hannitys. We're wasting our time with the Bill O'Reillys and now the Don Lemon's," Hutchinson began. "You know I stay away from these guys. You know I don't talk about them. They have an agenda, Bob, as you well know, and once again — at the risk of sounding like a broken record — the agenda it to make a show, to make ratings."
"They will do whatever anything and everything to make ratings. So, you know, a Don Lemon comes along — I mean they don't have to have a program," the radio host and frequent MSNBC guest continued. "They don't need to have a program they're not gonna have a program for change in our community. They're not going to be involved in anything, that's not their role."
RELATED: Don Lemon Fires Back At Critics, 'Uncle Tom' Label: What's Wrong With 'Telling People To Dress Appropriately?'
"They are professional hit men, they are professional in the case of Lemon and Reilly — O'Reilly and Hannity — they're professional assassins of African-Americans," Hutchinson continued:
The image of all the things that we fight for that we struggle for and all of the challenges that we are faced, that's their job. They're paid assassins and they're paid quite well. So, it is — and I happen to agree — it is in some ways almost ridiculous you know to trade barbs with these guys, you know they have an agenda and we should hour our agenda.
Lemon ignited a firestorm of controversy last week when he said he agreed with O'Reilly's claim that crime among blacks is more prevalent due to the "disintegration of the African American family."
Listen to the segment below via The Al Sharpton Radio Show:
> >Follow Noah Rothman (@NoahCRothman) on Twitter
Have a tip we should know? tips@mediaite.com