Alleged White House Shooter Taped A Video For Oprah, Claimed To Be Beer Pong-Playing Jesus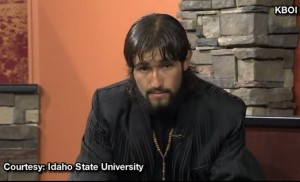 CBS affiliate KBOI in Idaho has discovered a video that alleged White House shooter Oscar Ortega-Hernandez taped in September, pleading for Oprah Winfrey to put him on her show. "My name is Oscar Ortega, from Idaho Falls, Idaho," he begins, "and I feel I am the perfect candidate to get casted onto your show."
Ortega reads from a notebook full of what appear to be essays, many of which he seemingly composed over the course of several months. One of his diatribes was on the end of the world, and he noted that there had been a lot of talk about it (at the time), alluding to Harold Camping's rapture prediction from mid-May of this year.
The world's end was just one of many topics Ortega-Hernandez hit on in the video. He brings up everything from beer pong to O.J. Simpson. He talks of a recent arrest for not having tags displayed properly on his dogs. He bemoans the role of government in our everyday lives. But his two favorite topics, without question, aree marijuana and God. In that order. At one point in the video, he even intertwines the two:
"God gave us everything we need to live and enjoy life: food to fuel, water to hydrate, sex for fun, horses for long term transportation, and marijuana to inspire, and thrive…for bigger and better things."
The, "sex for fun, horses for long-term transportation," line might actually prove to be the most in the entire video. Because there's a very slight chance that he could be joking, and if you rewind the video at that point several times, there's also a slight chance he might be trying to stifle a tiny smile, an act which would, at the very least, reveal another layer to the enigmatic Ortega-Hernandez, who comes off more like a college kid with boring, tired theories than a violent anarchist. And this isn't to say that that one or the other characteristic is true, just that this is how he comes off in the video.
Much attention has also been put on Ortiz-Hernandez's proclamation that he is Jesus. It's not entirely clear if that was his exact intent, however. He refers to himself as the "modern-day Jesus Christ," kind of in a way that Cee-Lo might refer to himself as a "modern-day Elton John":
"You see, Oprah, there is still so much more that God needs me to express to the world. It's not just a coincidence that I look like Jesus; I am the modern day Jesus Christ that you all have been waiting for. So I ask you Oprah, better yet, I'm begging you, Oprah. Please cast me onto your show."
The video was taped by Ramon Bailey, a student at Idaho State who said he randomly met Ortega-Hernandez at the gym. Ortega-Hernandez asked him to help film a commercial. Bailey tried to blow it off, but Ortega-Hernandez hammered him with phone calls. Bailey told KBOI that the taping disturbed him so much that he never edited it and stopped returning Ortega-Hernandez's calls.
"I don't want to have an affiliation that I was like really good friends with this guy cause I wasn't," Bailey told KBOI. "I was just trying to be a nice college student trying to work towards a degree in my field and just trying to better myself but obviously it backfired."
Watch the video of Ortega-Hernandez's rant below (with a cameo in the middle by Bailey's arm and midsection!), courtesy of KBOI in Idaho. And if you just want the juicy "I am Jesus" stuff, fast forward to about the 19 minute mark:
(H/T: Ryan J. Reilly from Talking Points Memo)
Have a tip we should know? tips@mediaite.com