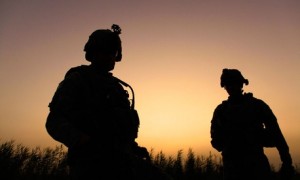 Earlier today, the NATO forces in Afghanistan released a statement saying a United States soldier was detained after allegedly opening fire on civilians in Kandahar Province and killing fifteen people. In the statement, the International Security Assistance Force called it "a deeply regrettable incident" and announced they will be launching an investigation with Afghan authorities into the matter.
RELATED: BBC Journalist Killed In Afghanistan By NATO Forces
According to The New York Times, eyewitnesses reported seeing a U.S. service member firing on several houses and a number of Afghan civilians. Villagers in the small district of Panjway said eleven people were killed in one house, and four others were gunned down in a second one.
The governor of Kandahar Province, Tooryalai Wesa, condemned the shooting, although he could not immediately confirm the number of people killed. A coalition spokesman in Kabul, Capt. Justin Brockhoff, said that it was not clear what had led to the incident. He said the civilians wounded in the shooting were taken to a coalition hospital where they were being treated.

One of the houses attacked in the village belonged to a tribal elder, according to a person from the village. "We don't know why he killed people," said the villager, Aminullah, who like many Afghans goes by a single name. Aminullah said the soldier was alone. "There was no fighting or attacks."
RELATED: Pictures Show US Soldiers Posing With Dead Afghan Civilians They're Charged With Murdering
The U.S. embassy in Afghanistan released a statement saying that "[t]he United States extends its deepest condolences to the families of the victims of today's tragic shooting incident in Kandahar province." The statement emphasized the importance of maintaining a good relationship between the United States and Afghanistan. This incident comes of the heels of a controversial Quran burning by U.S. forces last month and violent backlash from the Muslim world.
Have a tip we should know? tips@mediaite.com
Josh Feldman - Senior Editor