Amy Schumer Posts Clarification of Controversial 'Formation' Video: 'It Was NEVER a Parody!'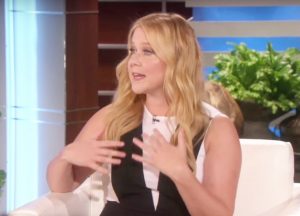 Another day, another open letter from Amy Schumer meant to address some controversy she has stirred up.
Just a few days ago, she read a letter to a New York crowd that addressed the people who walked out of her Tampa comedy show when she started lobbing insults at Donald Trump. Her latest letter appears on Medium and focuses on the accusations of racism that stemmed from her reinterpretation of Beyoncé's "Formation" video.
Following a thorough Twitter dragging that involved the hashtag #AmySchumerGottaGoParty, she released the essay which includes this:
It was NEVER a parody. It was just us women celebrating each other. The video Beyoncé made was so moving and I wouldn't ever make fun of that. There is absolutely no way to. I make fun of myself a few times in the video as I do in everything I am a part of. I loved every second of working with those women to make this thing that lifted us up.

If you watched it and it made you feel anything other than good, please know that was not my intention. The movie we made is fun and the women in it are strong and want to help each other. That's what it was about for me. Of course I had Beyoncé and Jay Z's approval. They released it on Tidal exclusively for the first 24 hours.

You have every right to feel however you feel about the video and me but I want you to know I'm not going anywhere. Use whatever hashtag you like.
She explained that watching Hillary Clinton at the DNC this summer inspired her to reimagine the video and song as telling all women to get in formation and that the goal was never to detract from the original themes of "Formation," including a celebration of black history and a condemnation of police brutality.
[image: screengrab]
Have a tip we should know? tips@mediaite.com