Anderson Cooper Tears Into Kellyanne Conway Over Comey Letter: 'Don't Facts Matter?'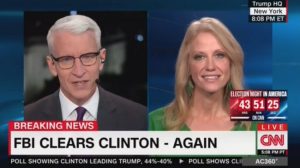 CNN's Anderson Cooper had an extended grill session with Donald Trump's campaign manager over James Comey's new letter to Congress, and…it was quite a doozy.
Cooper started things off by challenging Kellyanne Conway over how Trump hailed Comey's original letter as the death knell for Clinton, only for the FBI director to say his first decision on the matter hasn't changed. As Conway attempted to argue back, Cooper wondered if the campaign would go back to bashing Comey, after praising him over the last several days.
Cooper eventually got snippy when Conway wouldn't answer his questions, and he called her out about how Comey said it was "irresponsible" for Trump to speculate about the investigation as much as he has:
"If everybody jumped off a bridge, doesn't mean you should, too. Don't you think it is irresponsible?"
After Conway smacked the Clinton campaign for their fully-negative anti-Trump message, Cooper asked her whether her campaign truly acts any different. He went on to say that one way they could do that was by no longer proclaiming that Clinton will face an imminent criminal indictment.
After a sparring match over the Clinton Foundation's activities and Trump's unreleased tax returns, Cooper doubled back and asked Conway whether the Trump campaign would stop using an erroneous ad stating that Clinton is under criminal investigation. After Conway defended the merits of calling out Clinton's "corruption," Cooper asked about a claim the campaign humored that "special favors and rules" were being put into effect for Democratic voters.
"Don't facts matter? If the chairman of the Nevada Republican Party is making this inaccurate claim, that polling places are kept open so a certain group could vote, it was people in line in time to vote. Why imply that it is this certain group?"
Conway has given previous TV hits today, saying that Comey bungled the Clinton email investigation from early on.
You must watch the whole thing above, via CNN
[Image via screengrab]
— —
>> Follow Ken Meyer (@KenMeyer91) on Twitter
Have a tip we should know? [email protected]ite.com