Andrew Breitbart Resigns From GOProud Advisory Board After Group Outs Perry Staffer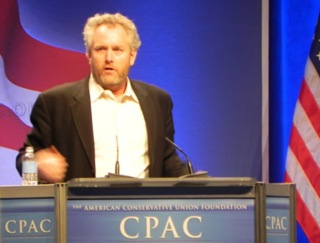 The gay conservative group GOProud ignited a firestorm earlier this week when, in response to Rick Perry's latest campaign ad attacking LGBT soldiers, they issued a statement rebuking Perry pollster Tony Fabrizio for exhibiting "the height of hypocrisy" in being both gay and a Perry staffer involved in this. The problem in their comment was the fact that Fabrizio's sexual orientation was not public knowledge, and now Advisory Board member Andrew Breitbart is resigning over the "intentional infliction of vocational and family harm" inherent in the practice of outing individuals who do not publicly divulge their sexual orientation.
RELATED: Rick Perry Pledges To End Obama's 'War On Religion,' Dings 'Don't Ask Don't Tell' In New Ad
The comments from GOProud leaders began in an article in the Huffington Post on the internal divisions of the Perry campaign staff, in which GOProud Executive Director Jimmy LaSalvia called his participation "the height of hypocrisy" because he has "lined his pockets for years with money from the gay community to conduct polls to ostensibly help gay people in this country." He then took to Twitter, where, as the blog Towleroad notes, he took it a step further, from working for the gay community to being a member of the gay community:
Meanwhile, Fabrizio's caving on the ad has enraged conservative gay group GOProud's Jimmy LaSalvia and Chris Barron, who sent out tweets late yesterday.

Said LaSalvia: "I've just about had it with faggots who line their pockets with checks from anti-gay homophobes while throwing the rest of us under the bus." He later clarified, "I was talking about Rick Perry's pollster/strategist."

Barron tweeted to a follower: "Rick Perry's pollster & strategist is a gay guy. Totally disgusting."
The outrage to these comments prompted Barron and LaSalvia to release a statement in the name of the organization, explaining that "we did not believe there was any question about his sexual orientation – nor did the reporters who called us to ask about his involvement in Perry's anti-gay campaign strategy." This explanation was not enough for Breitbart, however, who explained in a statement today that he has a "zero tolerance attitude towards the intentional infliction of vocational and family harm by divulging the details of an individual's sexual orientation," and that he "cannot in good conscience" remain with the group.
Breitbart's full statement via the Daily Caller below:
It is with sincere regret that I announce I must step down as a GOProud advisory member. On numerous occasions I have spoken with [GOProud leaders] Jimmy LaSalvia and Chris Barron of the significant impact the practice of "outing" had in my evolution from the political left to the right. I was under the absolute impression that both agreed. I have a zero tolerance attitude toward the intentional infliction of vocational and family harm by divulging the details of an individual's sexual orientation as a weapon of political destruction. As an "Advisory Board member" I was not consulted on this extreme and punitive act. Clearly, there are more productive means to debate controversial ideas and settle conflicts. Therefore, I cannot in good conscience stand with GOProud. I still stand by gay conservatives who boldly and in the face of much criticism from many fronts fight for limited government, lower taxes, a strong national defense as well as the other core conservative principles.
Have a tip we should know? tips@mediaite.com