Anna Wintour Raised Over A Half A Million Dollars To Re-Elect President Obama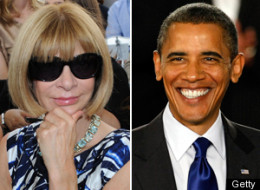 Despite what many may think about the political leanings of those that work in the media, accepted journalistic standards are to try to adopt a neutral stance in sharing the news and keep political leanings ambiguous. So, when lists like this one are published and it is revealed that media figures have raised hundreds of thousands of dollars for politicians, things get a little complicated.
The media figures represented in the list of top fundraisers for Obama include people like Robert Zimmerman, a CNN contributor; Ari Emanuel, agent extraordinaire; Jeffery Katzenburg, producer and CEO of  Dreamworks and last but not least Anna Wintour, ruler of all that is fashion.
Wintour is not necessarily the first person who comes to mind when one thinks about political swag. But didn't you see that scene in The Devil Wears Prada, the movie supposedly inspired by Wintour, where Meryl Streep cuts down Anne Hathaway and tells her that the sweater she bought at JCrew was actually hand picked for her by the editors at Vogue in a weird subliminal-ish twist? Vogue secretly controls everything. Fashion actually rules the world. We should fear Anna.
Just kidding. But, it is foolish to underestimate Wintour's influence. We live in a consumerist culture and Vogue actually has a higher circulation than the New York Times. Granted, that's not a water-tight comparison. Vogue is a monthly magazine. But regardless, the size of their readership is comparable and Vogue may even come out on top. If Jill Abramson raised half a million dollars for Obama it would be utterly explosive. But Abramson is perhaps less influential at the Times than Wintour is at Vogue: Wintour is a notoriously challenging editor and it is often said that not a single word makes it in to Vogue without her explicit approval.
So, when we find out that Wintour helped to earn over 500,000 for Obama's campaign, we shouldn't be looking at her merely as an individual or categorizing her fundraising events just as "fashion". We should recognize that she is an incredibly powerful media mogul. Seats at her most recent fundraiser for Obama cost about 30,400 (the maximum donation an individual can make to a political campaign) and were filled with media celebrities.
We spend a lot of effort furiously demanding that our news anchors and reporters adopt neutrality. Yet outlets like Vogue, which are possibly just as influential, if not more influential than most newspapers, display unabashed bias. Political bias is on their covers, within their pages and splashed across campaign donor lists. Barbara Bush didn't have a Vogue cover, did she?
You may argue that Vogue is just fashion and people don't expect to get their politics from a fashion magazine. But I say that influence is influence. A large number of people put more stake in the news they get from Us Magazine than the news they get from the Times. And seriously, if you don't believe me, look down at your shirt. What color is it? You know, it doesn't even matter. Anna Wintour picked it out for you. She's in your head and who is to say that she won't still be there when you enter the polls.
Have a tip we should know? tips@mediaite.com