Hugh Grant Is Suing UK Police Over Phone Hacking, Regrets Doing Movie for 20th Century Fox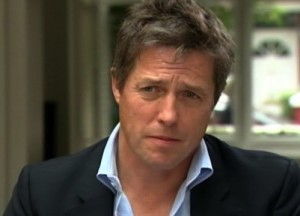 As News Corp. executives continue to drop like flies all around Rupert Murdoch, one of the key players in the widespread phone hacking scandal is taking legal action against the Metropolitan police. Actor Hugh Grant, who secretly recorded a tabloid reporter admitting to phone hacking several months ago, is suing the Metropolitan police over their potential involvement in the hacking cases.
Grant has been one of the most vocal celebrities piling on Murdoch's media empire, and yesterday he (along with newspaper columnist Jemima Khan) filed a lawsuit against the police. The Metropolitan police have been implicated in the phone hacking scandal because of allegations that officers were bribed to give tabloid editors private information on celebrities and politicians. Grant's lawyer has yet to comment on the suit.
Meanwhile, Grant is continuing to speak out on Murdoch, following his comments Wednesday that British politicians are "terrified" of Murdoch because of his influence on the media, and specifically acknowledged his previous involvement with News Corp. He admitted that he now regrets starring in the 1995 film Nine Months, because it was distributed by 20th Century Fox.
"It would certainly stick in my craw to work for Fox. I did make one film for them 16 years ago but I was naive then. I didn't even know who owned [the studio]."
(Though given the film's IMDB rating, it's not hard to believe that all the actors involved with the project now regret being in it.)
Because of his constant piling on News Corp. in the past few months, Grant acknowledges the chances of him getting to do a film for 20th Century Fox are slim to none, but he told Entertainment Weekly, "It doesn't bother me at all… I'm not wildly ambitious to make lots of films at the moment anyway."
Grant's last film role was in 2009's Did You Hear About the Morgans?, and his next is in the 3D animated film The Pirates! Band of Misfits, scheduled to be released next March. However, if Grant is looking for any good acting roles, he might want to consider playing himself in the eventual film adaptation of this whole scandal.
After all, you know it's coming. This is the kind of scandalous tale that Hollywood practically eats up. And just the thought of a poster reading "HUGH GRANT AS… HUGH GRANT" is enough to make Hollywood executives drool at the thought of making this the biggest scandal-driven movie since All the King's Men. (Except with more sex.)
Have a tip we should know? tips@mediaite.com
Josh Feldman - Senior Editor