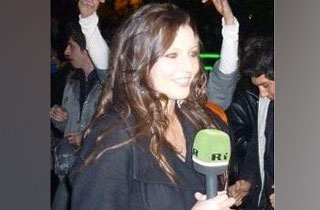 Sara Firth, a London-based correspondent for RT, announced her resignation from the Kremlin-owned press outlet today via Twitter, while alleging that she had been, in her own words, "taking a paycheck" to spread Russian propaganda.
"We do work for Putin," she admitted on Twitter. "We are asked on a daily basis if not to totally ignore then to obscure the truth."

"I have huge respect for many in the team, but I'm for the truth," she added in another tweet.
Firth, who had been filing as recently as the 16th of July, hinted strongly that she'd been asked to compromise a story of hers, likely about the crash of MH17 in Eastern Ukraine:
RT style guide Rule 1: It is ALWAYS *Ukraine's fault (*add name as applicable)

— Sara Firth (@Sara__Firth) July 18, 2014
'War is peace, Freedom is slavery, Ignorance is strength' – Guess I've always been a '2+2=4' kind of girl…..

— Sara Firth (@Sara__Firth) July 18, 2014
@cathyraats @Polly_Boiko honestly we're not. We're taking a paycheck and for that we have to always obey.

— Sara Firth (@Sara__Firth) July 18, 2014
@Bf28Edward @Polly_Boiko @ukTanos Thank you! It's an exercise in honesty. I've been doing it far too little lately.

— Sara Firth (@Sara__Firth) July 18, 2014
@shaunwalker7 Not hacked Shaun. I don't think the admissions are too surprising really.

— Sara Firth (@Sara__Firth) July 18, 2014
A year ago, Firth vehemently defended the reputation of RT in an interview with the UK's Press Gazette:
Despite Russia's poor reputation, Firth insists she has never once been asked to compromise her work. "There are a lot of conspiracy theories concerning RT but I personally have never come into contact with it and wouldn't tolerate it."

Firth went to work in Moscow after doing a postgraduate investigative journalism course at City University London in 2009. Previously, she had only spent a week in Russia, having done some work experience at The Moscow Times. She admits there were some difficulties during her time in the capital – not least that she couldn't speak a word of Russian – but insists that press freedom wasn't one of them.
"When it comes to covering a story if anyone asked me to alter or drop something I'd be out," she added. "I wouldn't think twice about it."
She tweeted that sentiment out again last night.
(It's worth pointing out that RT did publish a theory last night that MH17 had been downed by a Ukrainian missile intended for Vladimir Putin's plane.)
[Image via Twitter]
— —
>> Follow Tina Nguyen (@Tina_Nguyen) on Twitter
Have a tip we should know? tips@mediaite.com