Another Woman Comes Forward Accusing Rep. Weiner Of Online Sexual Conversations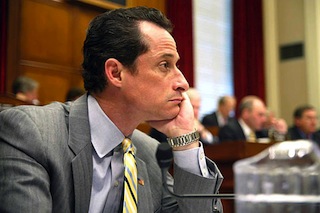 And the bad weeks for Rep. Anthony Weiner continue. Radar Online and Star Magazine have just announced that a woman, unrelated to the earlier scandal, has come forward with sexually explicit conversations she claims were sent to her from Weiner's Facebook page.
From Radar Online:
"The woman says she has 200 sexually explicit messages from Weiner from a Facebook account the Democratic politician no longer uses.

…

He told the woman he had a 'ridiculous bulge' in his shorts and asked if she 'wanna see' it — almost three months before a photo of an erect penis in tight fitting briefs appeared in the pol's Twitter stream.

It's a sensational twist to the scandal plaguing the embattled New York congressman. This new woman is middle-aged and from Nevada.

She requested that her name not be used but Radar and Star verified that she is listed as one of Weiner's friends on his Facebook page.

The woman provided Radar and Star with a partially redacted transcript of a private Facebook 'sexting' exchange she allegedly had with married Weiner on March 16."
So will this put all the mystery behind us? Nope. In fact, this story may add even more questions. While Radar and Star have confirmed that the Facebook account used to send the messages belongs to Weiner, he hasn't used that account since November (long before the alleged conversation), instead switching to a new official one. In fact, we checked and, since November, there's been only one post on the Facebook page. It's from last week and here's what it says:

So, is this further proof that Weiner was actually hacked or just a sign that he was covering his tracks when the first scandal broke? Either way, it looks like this story isn't going away any time soon.
Have a tip we should know? tips@mediaite.com