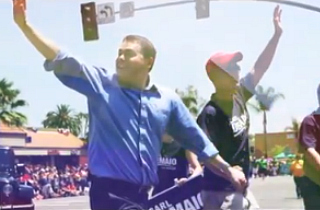 Some conservative organizations loathe the concept of same-sex marriage so much they are willing to endorse a liberal Democrat in order to prevent a gay Republican from ever taking office. Such is the case with the National Organization for Marriage (NOM), the non-profit dedicated to making sure gay people don't marry each other or adopt children.
Breitbart's Michelle Moon reported that in a Tuesday email to supporters, entitled "Carl DeMaio Wants You to Vote For Him, But He Totally Disrespects Your Vote," NOM president Brian Brown urged voters in California's 52nd congressional district to cast a ballot for Democratic incumbent Rep. Scott Peters over the openly-gay GOP nominee Carl DeMaio.
Even though the Democrat is "wrong on the issues," NOM would prefer not to see DeMaio take office because of his "own agenda of redefining marriage." If DeMaio is elected to the U.S. House, NOM warned, "we're going to have someone in Washington with a platform the tear our beliefs to shreds. Nobody in the media is going to care about his position on pension reform, they're going to give him a national platform to campaign against marriage and life."
The letter added that "Peters can't do any damage as a Democrat in a House of Representatives controlled by Republicans," so NOM supporters should just hold their nose, vote for him, and pray that in two years the next GOP candidate is a "true conservative."
DeMaio made national headlines early in his campaign when the Wall Street Journal labeled his TV ad a "landmark" for featuring a shot of the candidate with his same-sex partner. Polls currently show the race to be neck-and-neck, with DeMaio ahead by 1% in the latest.
Full NOM letter below:
Dear Marriage Supporter,

Carl DeMaio, who claims to be a Republican, apparently doesn't see the irony in asking you to vote for him. See, DeMaio has praised a process that stripped 7 million Californians of their votes in favor of Proposition 8 without even a defense being mounted by our elected officials. The opinion of one federal judge in San Francisco has been imposed on California in direct opposition to the decision of voters. And Carl DeMaio is fine with this judicial activism that stripped Californians of their votes because it aligns with his own agenda of redefining marriage.

The truth is that in Carl DeMaio's world, it's not about you, it's about him. DeMaio doesn't care about your votes on important issues like marriage, he only cares about getting you to vote for him.

Carl DeMaio is wrong on marriage, just as he is wrong on abortion. The Republican Party was founded in 1854 to fight what the platform called the "twin relics of barbarism" — slavery and polygamy. It was, and is, a party committed to campaigning for moral truths, and the truth of marriage as the faithful union of one man and one woman has been part of our beliefs since the founding of the GOP.

If Carl DeMaio is elected, we're going to have someone in Washington with a platform the tear our beliefs to shreds. Nobody in the media is going to care about his position on pension reform, they're going to give him a national platform to campaign against marriage and life. He will be featured on all the national news shows and will be featured by the leftist media as a "new Republican" to be role model for young people.

We have one chance to stop this, and it's right now. If DeMaio wins on November 4th, it will be extremely difficult to remove him once he gets access to all the corporate money and power structures that typically go to incumbents.
The National Organization for Marriage urges you to refuse to vote for Carl DeMaio. In fact, we ask you to vote for incumbent Scott Peters, even though Peters is also wrong on the issues. The reason for this is that Peters can't do any damage as a Democrat in a House of Representatives controlled by Republicans (emphasis added), and we can work together to elect a true conservative in two years to replace him. But Carl DeMaio serving as a supposed Republican in a House controlled by Republicans can do great damage, and could end up holding the seat for decades.

Please go to www.republicansandindependentsforscottpeters.net for more information. And please, whatever votes you cast on November 4th, do NOT vote for Carl DeMaio.

Faithfully,
Brian S. Brown
President
National Organization for Marriage
— —
>> Follow Andrew Kirell (@AndrewKirell) on Twitter
Have a tip we should know? tips@mediaite.com