Anyone Want To Pay To Have An Olympic Athlete Tattoo Your Twitter Name On His Arm For The Big Event?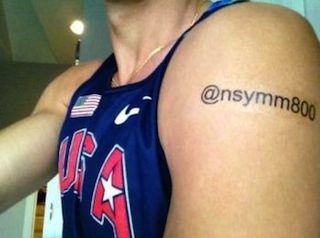 We're pretty preoccupied with the election over here but we should all remember that there's another big even coming up in 2012 that's not just important to America but to the entire world. And, no, I'm not talking about its fiery destruction come December; I'm talking about the Olympics! It's that time again and one athlete has come up with a very 2012 way of raising money for his expensive training costs. American Track and Field star Nick Symmonds will be holding an eBay auction and will tattoo the Twitter handle of the winner onto his arm when he competes.
It's pretty brilliant but I've got to imagine the guy will be kicking himself once someone tells him Kickstarter exists.
First things first, no, the tattoo won't be real. It will be a fake tattoo but, presumably, a strong one. I hear people sweat a lot when their trying to run faster than the best athletes on planet Earth.
Anyway, Symmonds explains more on eBay:
"Here is a very unique opportunity to advertise your Twitter name on an Olympian during the 2012 season. I was a member of the 2008 USA Olympic Track and Field Team and am currently ranked #1 in the United States and #6 in the world at 800 meters. I will wear a temporary tattoo of the Twitter name of the auction winner in every single competition I run in this year, 2012, on my left shoulder (see picture).

My 2012 schedule is shaping up to look as follows (subject to change).

Feb. 18th Sydney Grand Prix
Mar. 3rd Melbourne Track Classic
May 5th Oregon Twilight
May TBD USATF High Performance Meet
June 6th Prefontaine Classic in Eugene, OR
June 26th-June30 USA Olympic Trials in Eugene, OR
Aug 20th Herculis, Monaco Diamond League
Sept. 6-9 2012 Olympic Games in London, United Kingdom
TBD Post-season events.

Should the winner of this auction be a corporation, I will wear its Twitter name on my left shoulder when allowed to do so by governing bodies and, after reviewing the quality of the corporation's products, endorse them entirely provided my endorsement does not conflict with any of my current sponsors. (Nike and Melaleuca)

Along with this valuable advertising space (4.7 billion viewers during 2008 Olympic Games), I will tweet a message of support for the auction winner on the first of every month during 2012 from my personal Twitter account, @nsymm800, which currently has over 4500 followers. "
Symmonds has actually been outspoken in the past about what he feels is the Olympics' "restrictive regulations" on athlete sponsorship. He feels it is contributing to the "waning popularity" of Track and Field. Apparently, the Olympics have no problem with eBay auctions. And why should they? Were the ancient Greeks to have the option, I'm sure they would have gotten in on it. And, as they competed naked, there would have been a ton of tattoo space.
Symmonds' auction is currently nearing the $1,900 mark. It seems like a pretty sweet deal. I'd consider bidding myself but my personal endorsement does conflict with Melaleuca. I hate those guys.
(h/t BetaBeat via Media Bistro)
Have a tip we should know? tips@mediaite.com