Ariana Grande and Piers Morgan Spend Thanksgiving Eve Arguing About Little Mix, Misogyny, and Nudity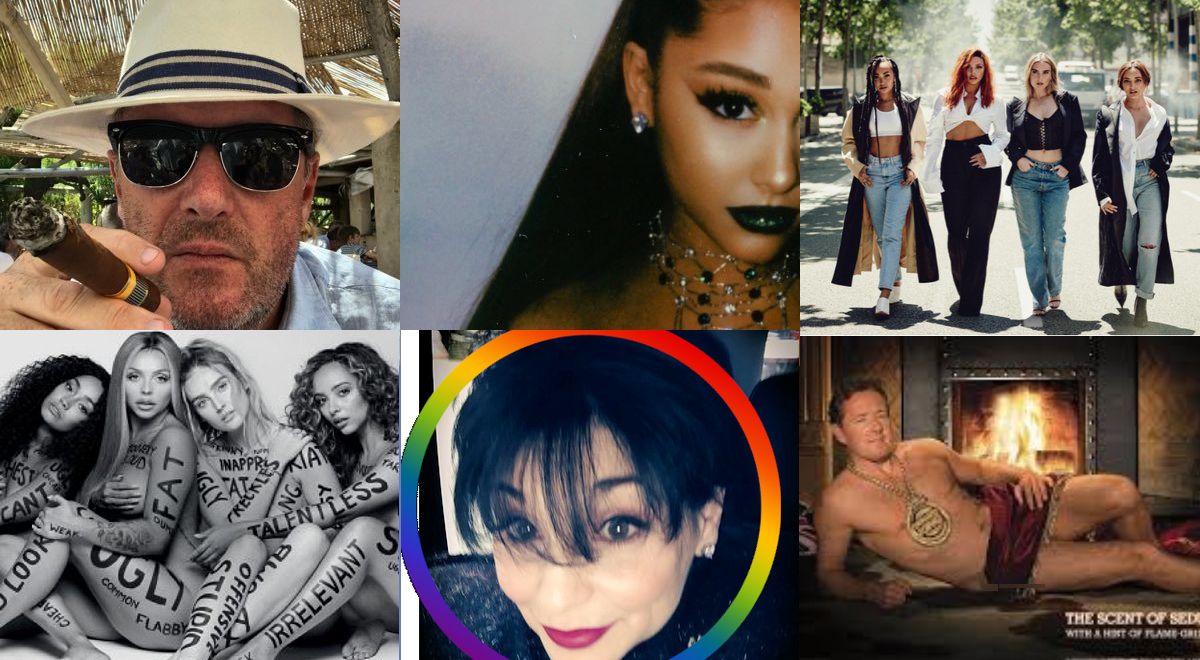 Is it something about Thanksgiving? Because the Twitter fights just seem to pile up. Already, we've seen not one, or two, but three notable feuds this week. And now Piers Morgan, in what is an annual turkey week tradition apparently, is an online spat once again — this time with singer Arianna Grande over (checks notes) misogyny, I guess?
Amazingly, Morgan had a noteworthy Twitter fight last Thanksgiving week, too. AND the one before that. Like I said, it must be something about turkey and stuffing that brings out the … beefs? I may have to work on that theory. In any case, here's the latest.
The story begins like most of history's tragic tales: with a Piers Morgan tweet.
Hey @LittleMix – when are you going to admit you stole this idea from @dixiechicks? pic.twitter.com/dLRX2TMv2k

— Piers Morgan (@piersmorgan) November 20, 2018
With that shot, Joan Grande, mother to Ariana Grande, who I gather is a rather popular musician, quote retweeted Piers. "Honestly what is wrong with you," she tweeted to him. "Didn't your mother ever teach you, if you have nothing nice to say, don't say it!"
Naturally, Morgan tweeted back, also in the form of a quote retweet, and said he'd rather singers were selling albums than "their nudity," and the internet unleashed hell. It was something he also said about Little Mix, another popular musical act, on Good Morning Britain. "It's nonsense" he said of her underwear instagram photo, which tells you what a serious intellectual debate we have brewing here. "It's just stripping off to sell records. It's actually using sex and sexuality to sell records. That's it. There's nothing else to this."
Hi Joan, my mother taught me to speak my mind & never be afraid to express honestly held opinion.
Ellen's a hypocrite – and as for Little Mix, I'd just prefer they use their talent to sell records rather than their nudity.
As your own daughter does…! https://t.co/nCQAsIgoVG

— Piers Morgan (@piersmorgan) November 21, 2018
He said "as your daughter does" at the end of that tweet. And that's when Ariana joined in.
Ellen is an incredible & kind human being.. I use my talent AND my sexuality all the time because i choose to. women can be sexual AND talented. naked and dignified. it's OUR choice. ? & we will keep fighting til people understand. i say this w all due respect but thank u, next. https://t.co/wSknRSlJN8

— Ariana Grande (@ArianaGrande) November 21, 2018
If you aren't on the edge of your seat yet, I don't know which washed-up talent judge and pop music star's mother's discussion about underwear instagram YOU'RE reading, because I'm sweating bullets right now.
Grande hit Morgan again.
also @piersmorgan, i look forward to the day you realize there are other ways to go about making yourself relevant than to criticize young, beautiful, successful women for everything they do. i think that'll be a beautiful thing for you and your career or what's left of it. ?

— Ariana Grande (@ArianaGrande) November 21, 2018
And then, the coup de grâce. Piers posing partially nude. So not just hypocritical but terrifying.
when u do it it's ok tho right? https://t.co/FJyF24ZlYx

— Ariana Grande (@ArianaGrande) November 21, 2018
SO THEN WHAT HAPPENED WAS…
MTV (UK) summarized the stories, and tweeted it with the headline "Ariana Grande, the new official clap back queen, drags Piers Morgan over his misogynistic comments towards Little Mix"
And Morgan clapped(?) at that.
Why's it 'misogynistic' to suggest female pop stars with millions of young fans shouldn't use nudity to sell records?
Most women I've spoken to you about this agree with me – especially mothers of young girls. https://t.co/OM7qr1BL2Y

— Piers Morgan (@piersmorgan) November 21, 2018
Also political activist Kenidra Woods joined in.
@piersmorgan let @ArianaGrande be. why are you so fixated on a successful young woman who's doing the damn thing. you should go worry about what's left of your career, sir

— Kenidra4Humanity (@KenidraRWoods_) November 21, 2018
And Piers retorted with a "who are you?" thus completing the full circle of celebrity beefing.
a) Ariana's the one who sent me a blizzard of tweets, suggesting the fixation lies elsewhere..
b) Talking of careers, who are you? https://t.co/7gQcQn0IGO

— Piers Morgan (@piersmorgan) November 21, 2018
So what I'm getting at is, Happy Thanksgiving! Have some beef like British people do I guess!
[Featured image via screengrab]
—
Follow Caleb Howe (@CalebHowe) on Twitter
Have a tip we should know? tips@mediaite.com
Caleb Howe - Contributing Editor