As Oregon Arrests Continue, Ammon Bundy Tells Remaining Followers to Give Up, Go Home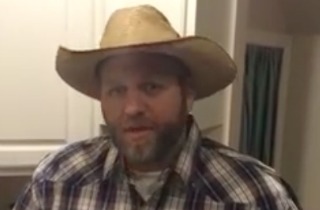 When Ammon Bundy led his Oregon 'militia' during their takeover of a wildlife refuge early this month, he expressed a do-or-die attitude to defy the government as long as it took until it relinquished federal land back to the local community. Now that he has been taken into custody, it seems that Bundy is starting to think that his mob is not going to win their standoff.
Earlier this week, Bundy, his brother Ryan, and several of his fellow militiamen were taken into custody by the FBI and local officials when a traffic stop took a violent turn, leaving one protestor dead. After a court hearing, Bundy asked attorney Michael Arnold to give a statement on his behalf, telling his men that the time has come to end it.
"To those remaining at the refuge, I love you. Let us take this fight from here. Please stand down. Go home and hug your families," the statement said. "This fight is ours for now in the courts. Please go home."
While the siege has lasted nearly a month, the confrontational aspect with the government has been strange to say the least. Bundy's militants have been able to come and go from the community as they liked, and the government previously took a limited response with only a couple arrests. Even so, friction with Harney County and Governor Kate Brown has been growing, and indications suggest that more action is starting to be launched against the occupiers.
Reuters reported that three more of Bundy's men have been arrested, including Jason Patrick, who has been considered one of the militia's top spokesmen. It is currently unknown how many remain in the refuge, but while some have reportedly left the holdout, others say they plan to dig in.
"We're camping out tonight here, by this campfire," David Fry said, adding that they were staying "until someone starts listening or until they slaughter us."
[h/t New York Times]
[Image via screengrab]
— —
>> Follow Ken Meyer (@KenMeyer91) on Twitter
Have a tip we should know? tips@mediaite.com