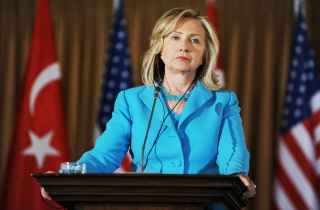 One week after the Associated Press formally threatened legal action against the State Department over a Freedom of Information Act request that has thus far gone unfulfilled, the world's largest and oldest news organization announced on Wednesday morning that it is suing the department.
According to the AP, FOIA requests from up to five years ago are still pending. Some of those refer to Clinton's calendars, conversations with longtime aides (Huma Abedin, for example) who are likely to be involved with her 2016 presidential campaign, and the former secretary's emails related to NSA surveillance and the Osama bin Laden raid.
AP's General Counsel Karen Kaiser said legal action is "necessary" and aims to shed light on Clinton's actions "during some of the most significant issues of our time."
"The press is a proxy for the people, and AP will continue its pursuit of vital information that's in the public interest through this action and future open records requests," Kaiser said.
The AP notes that the State Department takes notoriously long to comply with FOIA requests:
The State Department generally takes about 450 days to turn over records it considers to be part of complex requests under the Freedom of Information Act. That is seven times longer than the Justice Department and CIA, and 30 times longer than the Treasury Department.

An inspector general's report in 2012 criticized the State Department's practices as "inefficient and ineffective," citing a heavy workload, small staff and interagency problems.
The AP said it planned on filing more FOIA requests following last week's revelation that Clinton exclusively used a personal email address rather than a government account during her time at the helm of the department, possibly in violation of the law.
The lawsuit was filed in the U.S. District Court for the District of Columbia. You can read the full AP report here.
[Image via screengrab]
— —
>>Follow Andrew Desiderio (@forza_desiderio) on Twitter
Have a tip we should know? tips@mediaite.com