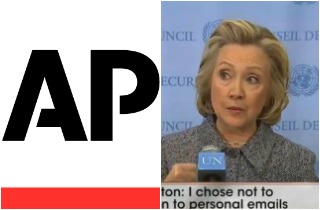 Former Secretary of State and likely Democratic presidential candidate Hillary Clinton gave her much-awaited response on Tuesday to questions about the legality of her exclusive use of a personal email address instead of a government account during her time as Secretary. Following the press conference, the Associated Press released its fact-check of Clinton's most notable statements.
The AP didn't cut Clinton much slack. They first went after Clinton for saying "others had done it." That isn't necessarily true, they note, because she is the only secretary of state who exclusively used a personal email address for all unclassified government business. The AP called it a "striking departure from the norm."
Clinton also said at the presser that she complied with every rule. The AP noted, though, that at the very least she violated the law by not using a State.gov email address to conduct official business — something the White House called "very specific guidance." The AP also claimed Clinton dodged multiple questions about whether she sought permission beforehand.
While Clinton said her server was under the protection of the Secret Service, the AP said she could not say for sure whether it was compromised by hackers. "She also didn't detail who administered the email system, if it received appropriate software security updates, or if it was monitored routinely for unauthorized access," the AP noted.
On the issue of the "convenience" of carrying only one device, the AP pointed to Clinton's comments at an event last month during which she said she had "an iPad, a mini iPad, an iPhone and Blackberry." The AP's response was, "if multiple devices were an inconvenience in the past, they may be something of an obsession now."
As Mediaite noted on Tuesday, though, there might be reasonable explanations as to why Clinton could not just put two email accounts on one phone.
You can read the full fact-check here.
[Image via screengrab]
— —
>>Follow Andrew Desiderio (@forza_desiderio) on Twitter
Have a tip we should know? tips@mediaite.com