AZ Secy Of State Ken Bennett: Obama Lied About Being Born In Kenya To Get Into College
AZ Secy Of State: Obama Lied About Being Born In Kenya To Get Into College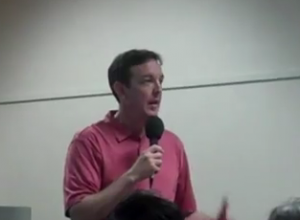 Remember Arizona Secretary of State Ken Bennett who threatened to remove President Obama from the state's ballot without Hawaii's verification of Obama's birth certificate, while claiming he wasn't a birther? He's baaack. This time with a new conspiracy theory. Obama, Bennett said, was indeed born in Hawaii — but he claimed to be born in Kenya so he could get into college.
RELATED: What's The Real Reason Behind This AZ Official's Newfound Birtherism?
As Nick R. Martin reports over at Talking Points Memo, Bennett — who is the co-chairman of Mitt Romney's campaign in Arizona — made the comments at recent even during which he said the world led by Obama is "just a very, very scary" one. He went on to say:
"Now, I know there's a lot of people that are very skeptical as to whether he was born in Hawaii. Personally I believe that he was. I actually believe he was fibbing about being born in Kenya when he was trying to get into college and doing things like writing a book and on and on and on."
He added some details to this theory, putting a figure on just how much Obama spent covering this up:
"So if there was weird stuff going on," he said, "I actually think it was happening back in his college days because I think he has spent $1.5 or $2 million through attorneys to have all of the college records and all of that stuff sealed. So if you're spending money to seal something, that's probably where the hanky panky was going on."
As you'll recall, Bennett's last attention-garnering comment didn't end particularly well. Hawaii wasn't keen on his request, asking that he prove he needed such verification. Bennett's move then was also seen by some as pandering for a potential gubernatorial run.
Any theories about this one?
Take the specific remarks about Obama in the speech — posted on YouTube by user SamuelAdams1722:

(H/T TPM)
Have a tip we should know? tips@mediaite.com