'Banana Republic': Limbaugh Says Zimmerman Faces A 'Show Trial' To Please 'The People In Power'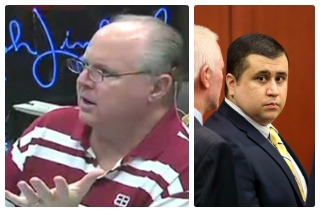 On Thursday, conservative radio host Rush Limbaugh reacted to the news that the judge in the George Zimmerman murder trial would allow the jury to consider a charge of third degree murder by child abuse with shock. He said that this development is indicative of how Zimmerman is facing a politically motivated "show trial" designed by the media and the federal government to promote a "racial divide."

"In order for Zimmerman to be convicted of this in a – something other than a banana republic court – he would have had to have known that Trayvon Martin was 17-years-old," Limbaugh said of the introduction of murder by child abuse into the possible charges the jury can consider.
"Never mind that Zimmerman's lawyers can't defend against either of these new charges. They've rested," he continued. "You're not allowed to defend yourself against children."
"I just think it's outrageous," Limbaugh said. "This is what happens in show trials."
RELATED: Limbaugh Calls Into The Five: Praises Fox News, Battles With Beckel, And Slams Media Over Zimmerman
"The only important thing in a show trial is pleasing the people in power and giving the unwashed masses a lesson," he continued. "Show trials have nothing to do with dispensing justice. They're all about dispensing social justice, which is usually the polar opposite of real justice."
Limbaugh reiterated a charge he made on Fox News Channel's The Five on Wednesday where he said that the media have been "invested" in a guilty verdict in Zimmerman's trial since before he was formally charged.
He added that the Civil Rights Movement has informed the present generation of journalists to the point that they see "racial injustice" everywhere and view it as a part of their mission to atone for that injustice.
Furthermore, Limbaugh said that it is "insulting" the way the media views minorities as being "incapable" of navigating modern life without assistance from the mechanisms of the state.
Listen to the clip below via The Rush Limbaugh Show:
> >Follow Noah Rothman (@NoahCRothman) on Twitter
Have a tip we should know? [email protected]