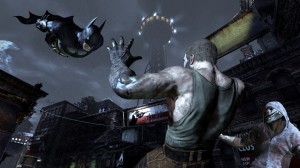 Mediaite isn't known for video game reviews, but we do have a soft spot for Guinness World Records. And Tuesday's release of Batman: Arkham City — one of the most-anticipated video game titles in the last decade — may break the record set by its predecessor, Batman: Arkham Asylum, for "Most Critically Acclaimed Superhero Video Game." And it might not stop there. On Metacritic.com, a site that aggregates reviews of movies, shows, and games, Arkham City trails just Grand Theft Auto IV — by a point! — and is currently tied for second with Super Mario Galaxy on their list of the best-reviewed games of all-time.
IGN gave the title a 9.5 (out of 10) and called it "a brilliant game." Gamespot says it's "an unforgettable adventure." There are hundreds of similar reviews praising the game.
Outside of reviews, Arkham City has a tough hill to climb in terms of setting sales records. In March, research firm NPD reported that Call of Duty: Black Ops was the all-time money leader, with 13.7 million copies bringing in over $1 billion in sales. According to VGChartz, a site dedicated to tracking video game sales, the all-time leader in units sold is Wii Sports, with 77.3 million sold. The next-highest is Super Mario Bros., with 40.24. So Arkham City has a while to go to top the charts, but, with a starting price of $59.99, there's a decent chance it could pass Call of Duty as the highest-grosser. Especially if the positive reviews continue to pour in.
For now, enjoy the Batman: Arkham City trailer, courtesy of Rocksteady Studios:
Have a tip we should know? tips@mediaite.com