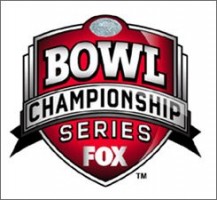 Even before the Bowl Championship Series, the system that determines which two teams play for college football's national championship, launched official Facebook and Twitter pages last week, it was no secret that many people think the system is broken. Fan response to the pages, maintained by BCS executive director Bill Hancock, simply confirmed the widespread discontent. And boy, was there a lot of confirmation.
The anti-BCS backlash was so swift that it was reminiscent of the barrage of tweets directed at Rep. Pete Hoekstra (R-MI) this summer after he said this. Such responses were understandable: after all, one of the account's first tweets consisted of a compliment paid the BCS by Florida head coach Urban Meyer. Meyer, whose team won a BCS title less than two years before he made the comment in question (and went on to win another after the 2008 season), isn't exactly an impartial observer. And this tweet to Stewart Mandel of Sports Illustrated doesn't exactly suggest superb attention to detail on the BCS' part. At least Hancock said he was prepared for the frosty reception.
Since weathering the initial Twitter storm, Hancock has started doing more of what one has to think was his original intent: attempting to poke holes in a potential playoff system, most fans' preferred alternative to the BCS. Unfortunately for Hancock, hew doesn't do much beyond show that no system would be perfect. He's right about that, but he just can't offer anything as thorough as this takedown of the BCS by rivals.com's Dan Wetzel.
As far as the actual BCS pages go, the lack of character limits on Facebook makes it the much better site for actual substantive debate on the issue. Most posts have dozens of responses, and while there's a fair amount of snark, most fan replies are well-reasoned (and some are very lengthy). While nothing about the BCS setup is likely to change at any time in the near future, the page is a worthy experiment to encourage debate. But as another (admittedly much smaller) group shows us, perhaps a BCS Facebook page was a more worthy experiment than the BCS itself.
Have a tip we should know? tips@mediaite.com