Beck Threatens to Quit NRA if They Re-Elect 'Secret Muslim' Grover Norquist to Board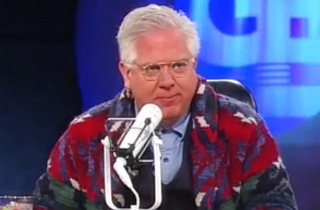 Radio host Glenn Beck announced recently that he would quit the National Rifle Association completely if they re-elected Grover Norquist, whom he accused of being sympathetic to the Muslim Brotherhood, to its board. And during his radio show today, Beck announced that because of his comments, the NRA was now investigating Norquist's alleged secret Muslim-ness.
For years, Beck has accused Norquist of being associated with the Muslim Brotherhood, citing his past ties with Islamic-American groups such as CAIR, his prior attempts to build a coalition between conservative Muslim groups and the Bush Administration, and the fact that his wife is a Palestinian Muslim. Norquist also happens to sit on the board of the NRA, as a prominent and powerful Conservative should do.
Beck, a vocal supporter of the NRA, decided to take action: earlier this week, he publicly promised to resign from the NRA if they chose to re-elect Norquist to the board. "If this man is elected, or re-elected and confirmed on the board of the NRA, I may drop my membership in the NRA."
While he said today that he agreed with Norquist's infamous Tax Pledge, "when it comes to the Muslim Brotherhood and Islam, this guy is on the wrong side whether he knows it or not…I don't believe he's out trying to destroy America, but his efforts and his work will lead to the destruction of America." According to The Blaze, Beck then dropped this bombshell:
"Yesterday I spent about an hour on the phone with Wayne LaPierre at the NRA. … They reacted immediately because of your phone calls. Hundreds and hundreds and hundreds of phone calls have apparently come in."

"I honestly expected some sort of defense. But [Wayne LaPierre] said, '…I want you [and] your audience to know, I take our members voice's seriously,'" Beck continued. "When you called, they went into action. And they said that they were opening up an ethics investigation on Grover. They said they're going to get down to the bottom of this once and for all. Grover denies all of these allegations."

Beck said he fully expects to be called a racist and an Islamophobe, though "there's not a racist bone in [his] body." But he praised the fact that the NRA has promised a "fully transparent" investigation that will be "posted on the web."

"When it comes down to something this important, agents of influence … we do not take a risk," Beck said. "Especially with an organization as important as the NRA. … We cannot lose the NRA. And that's why I say this, because I believe Grover Norquist is an agent of influence. I believe that he is influencing people to look the other way when it comes to people like the Muslim Brotherhood."
Though Norquist may have public sympathies towards the Islamic religion, it should be noted that the allegations of his ties to the Muslim Brotherhood have been repeatedly disproven.
Watch below, via TheBlaze TV:
[h/t MMfA]
[Image via screenshot/The Blaze]
— —
>> Follow Tina Nguyen (@Tina_Nguyen) on Twitter>> Follow Tina Nguyen (@Tina_Nguyen) on Twitter
Have a tip we should know? tips@mediaite.com