Behold: The 'One Nation' Bus That Will Roll Sarah Palin Along The Highways Of America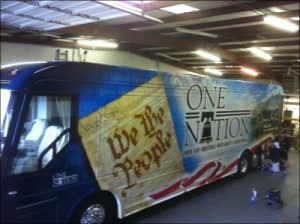 She's got a bus covered in over-the-top patriotic images (Liberty Bell, Constitution, American flag, Sarah Palin's signature) and she's ready to roll. Sarah Palin sets off on the "One Nation" bus tour Sunday, and we're getting a preview of the bus itself today. In case you forget the second half of the pledge of allegiance, fear not: it's on the side of the bus. There's also an invitation to "join the fundamental restoration of America!" Yep, it's big and bold, but don't be confused. It's not the launch of a presidential campaign. It just looks that way.
"Our nation is at a critical turning point," Palin explains. "As we look to the future, we are propelled by America's past. It's imperative that we connect with our founders, our patriots, our challenges and victories to clearly see our way forward. A good way to do this is to appreciate the significance of our nation's historic sites, patriotic events and diverse cultures, which we'll do in the coming weeks on our 'One Nation' tour." So it's off to explore the nation–and, obviously, to fire up plenty of presidential speculation, as the Los Angeles Times reports:
The first stop will be at the "Rolling Thunder" Memorial Day weekend motorcycle rally in Washington. A "New England" stop would seem to indicate a stop in New Hampshire, which hosts the first-in-the-nation presidential primary.

Palin as recently as last week said she was still considering a run, but refused to offer any clues as to her timetable for making a final decision. Though Scott Conroy, the reporter who broke the story, said aides were calling the tour a nontraditional "exploratory" effort, it was not clear whether she would be filing necessary paperwork to indicate as much. Her website said the bus tour was being funded through her PAC.
More bus photos: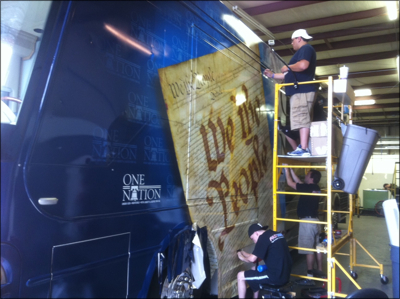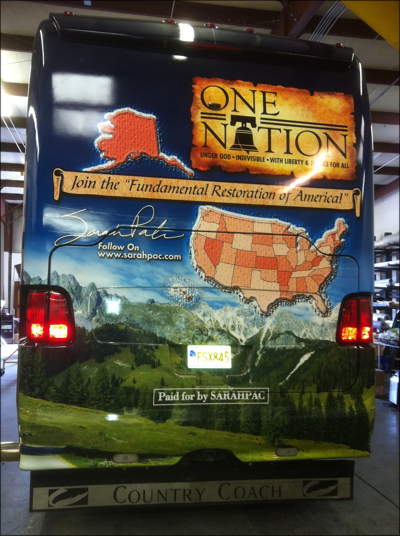 Have a tip we should know? tips@mediaite.com