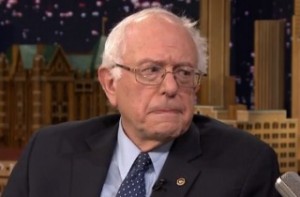 Sen. Bernie Sanders is pushing back hard against the Washington Post, whose editorial board published a withering criticism of Sanders's campaign Thursday. Sanders fired back against the paper, calling them out for failing to address the shrinking middle class, being disastrously wrong on the Iraq War, and for disingenuously labeling him a "radical."
The editorial had accused Sanders of running a "fiction-filled campaign," peddling "his own brand of fiction to a slice of the country that eagerly wants to buy it."
Sanders launched into a four-minute retort in Des Moines Thursday morning, demanding to know where the paper's concern had been over the last 30 years, during the "radical transformation of America" when there was "a massive transfer of wealth from the middle class and working families of this country."
"I know the Washington Post may think I'm radical, but I'm not," he said.
Sanders told reporters:
People are telling us, whether it's the Washington Post editorial board or anybody else, our ideas are too ambitious — can't happen. Too bold, really? Well, here's something which is really bold. In the last 30 years, there has been a massive transfer of wealth from the middle class and working families of this country. The middle class has become poorer and trillions of dollars have been transferred to the top one-tenth of 1 percent.
Even when discussing foreign policy, the Vermont senator took the opportunity to steer the conversation back to assailing the paper: "Getting back to the Washington Post, check out where all the geniuses on the editorial page were with regard to the invasion of Iraq."
Sanders also downplayed rumors that were circulating Thursday morning that his campaign was considering launching negative ads against Hillary Clinton, a tack the candidate has vociferously rejected. "Not quite sure who you talked to," he told a New York Times reporter, "but next time, talk to me."
[h/t Washington Post]
Have a tip we should know? tips@mediaite.com