Betsy DeVos Gets Torched for Defending Special Olympics Budget Cut: 'Can We Just Call Her Cruella DeVos?'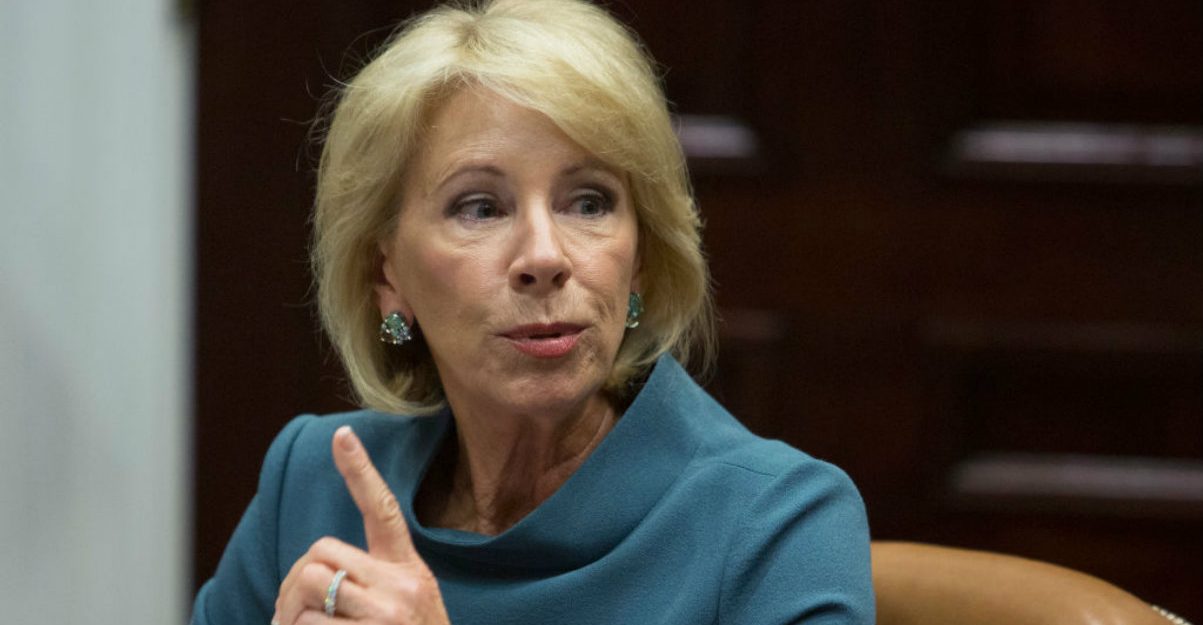 While testifying before the House Appropriations Subcommittee on Labor, Health, & Human Services Tuesday, Education Secretary Betsy DeVos faced some intense questioning over her department's budget. Namely, committee members were outraged that the budget proposal eliminated the entire $17.6 million Federal outlay to Special Olympics Education programs.
"We had to make some difficult decisions with this budget," DeVos said (via Politico).
Democrats were furious.
"I … can't understand why you would go after disabled children in your budget," Rep. Barbara Lee (D-CA) said, in a contentious exchange.
Clips of DeVos's testimony spread across social media, and drew swift condemnation. But on Wednesday, Devos claimed the story has been misrepresented.
"It is unacceptable, shameful and counterproductive that the media and some members of Congress have spun up falsehoods and fully misrepresented the facts," DeVos wrote.
DeVos then proceeded to confirm the media reporting she claims has been misrepresented.
"The Special Olympics is not a federal program. It's a private organization. I love its work, and I have personally supported its mission. Because of its important work, it is able to raise more than $100 million every year. There are dozens of worthy nonprofits that support students and adults with disabilities that don't get a dime of federal grant money. But given our current budget realities, the federal government cannot fund every worthy program, particularly ones that enjoy robust support from private donations."
The criticism is coming from both sides of the aisle. Sen. Roy Blunt (R-MO), for one, said the Special Olympics budget allocation won't be touched.
"I'm a longtime supporter of Special Olympics and proud that Missouri is home to the largest Special Olympics training facility in the world," Blunt said (via Roll Call). "I was just at the World Games and saw, as I have many times before, what a huge impact the organization has on athletes, their families, and their communities. Our Department of Education appropriations bill will not cut funding for the program."
Here's just a sampling of the rest of the reaction on Twitter:
In @BetsyDeVosED's budget, there are major cuts to programs like the Special Olympics. Sec. DeVos didn't know the number of kids who would be hurt by that cut, so I made sure she now knows that 272,000 kids are seeing their support taken away. pic.twitter.com/6ZiOfDU4Ou

— Rep. Mark Pocan (@repmarkpocan) March 26, 2019
Three grafs of throat-clearing and excoriation followed by a confirmation of all the stories. https://t.co/jmydCpwLiU

— Maggie Haberman (@maggieNYT) March 27, 2019
Betsy DeVos donating a portion of her salary to the Special Olympics only to turn around and decimate the entirety of its funding is a special kind of plutocrat savior ableist bullshit.

— Liz Plank (@feministabulous) March 26, 2019
DeVos shames the media for spinning "falsehoods" in saying she wants to cut funding for the Special Olympics…. while admitting she wants to cut funding for the Special Olympics ? https://t.co/LaohIbwTnF

— David Mack (@davidmackau) March 27, 2019
A total disgrace that Betsy DeVos wants to cut all federal funding for the Special Olympics.

— Mike Levin (@MikeLevinCA) March 27, 2019
Betsy DeVos is worth over 5 billion dollars. She owns a 40 million dollar yacht. One of 10 BOATS her family owns. I'm sure this decision was "difficult" for her to make. This timeline is way beyond a farce at this point. https://t.co/ZlPSEk8SJl

— Felicia Day (@feliciaday) March 26, 2019
Can we just call her "Cruella DeVos"?

— Hari Kondabolu (@harikondabolu) March 27, 2019
I know I've used the word "evil" to describe Trump's cabinet before, but come on: This is *truly* the depths of evil. I honestly can't fathom what is going inside Betsy DeVos's head. https://t.co/v9coBVTkfW

— Phil Plait (@BadAstronomer) March 27, 2019
Trump's weekly vacations to Mar-a-Lago cost a great deal more than the government funding for the Special Olympics that DeVos wants to cut. So Trump has taken money from families that benefit from the Special Olympics and spent it on his own lavish adventures in decadence.

— Walter Shaub (@waltshaub) March 27, 2019
Oh my God. This is chilling. Taking from the Special Olympics after punching an over a trillion dollar hole in the debt for tax cuts for billionaires like DeVos. This. Is. Evil. https://t.co/iN1Oh7p0kf

— Bradley Whitford (@WhitfordBradley) March 27, 2019
[featured photo via Getty Images]
Have a tip we should know? tips@mediaite.com
Joe DePaolo - Senior Editor