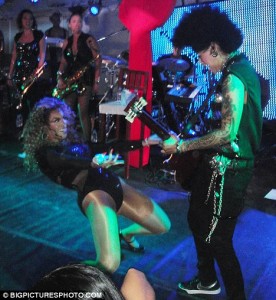 ****Update, Jan. 5, 2010: The reports and unconfirmed rumors in the post below have since been updated in this confirmed, updated report on Beyoncé's performance. Earlier reports which suggested that Saif al-Islam Gaddafi, one of the sons of Libyan leader Muammar Gaddafi, had hosted the event were incorrect — according to the New York Post, this year's party was hosted by his brother Hannibal Gaddafi. As noted below, Saif Gaddafi was in New Zealand over New Year's. Reports cited below saying he hosted last year's party, where Mariah Carey performed, were also incorrect; New York Daily News columnists Rush & Molloy subsequently reported that Saif Gaddafi was in Asia at the time of the event, and that the party was actually hosted by his brother, Moatessem-Billah Khadafy, which is not the brother who hosted this year's event. The full, confirmed, updated version of this story may be found here; the rest of this post (below) has been left as it was published on Jan. 3, 2010 to keep the record intact.
Did Beyoncé perform on New Year's Eve for the family of Libyan leader Colonel Muammar Gaddafi?

The mega-star and her mega-star husband, Jay-Z, are confirmed to have spent their New Year's holiday in St. Barth thanks to numerous sightings, tweets/twitpics and paparazzi photographs over the last few days of 2009. The UK's Daily Mail ran pictures of Beyoncé, including the one above, performing at the exclusive Nikki Beach club, as well as after in a group that included her husband Jay-Z, Usher, and Jon Bon Jovi (Usher did the countdown to New Year's). Confirmations of a show-stopping New Year's Eve performance came via Twitter as well, from Asylum Records CEO Todd Moscowitz and Swedish supermodel Victoria Silvstedt, who also snapped a picture.

So where do the Gaddafis come in?

Well, last year they made waves with a similar party: Mariah Carey was reportedly paid $1 million to sing just four songs at the Nikki Beach Club for a party reportedly thrown by the family of the Libyan leader. Jay-Z and Timbaland also reportedly performed. (NB: Those reports were widespread, but not confirmed anywhere that I found.)

Saif Gaddafi, who acts diplomatically on behalf of Libya and runs with playboys and powerbrokers, was in the news earlier this year regarding the release of Libyan Abdel Basset Ali al-Megrahi, better known as the Lockerbie bomber, who had been convicted of placing the bomb that brought down Pan Am 103 in December 1988. Gaddafi fils facilitated the release and flew the bomber home to Libya on his father's private jet, and caused a stir after with comments that the deal may have been linked to trade talks (he pulled back from those comments in a NYT op-ed, in which he also pushed back against reports that Megrahi had received a "hero's welcome" in Libya; this photo of him with Megrahi with their hands held high as they emerged from the plane indicates otherwise. It's from the album, "Another success for Libya").

Saif Gaddafi has hosted a swank New Year's Eve party on Nikki Beach for the past few years, according to sources familiar with the St. Barth's social scene, including last year's event headlined by Carey, where Jay-Z also performed and Beyoncé was also in attendance. Though there were reports that he himself was in New Zealand through the New Year, the party seemed to go on as scheduled, according to this tweet from DJ Sam Young:

(The other big New Year's Eve party on St. Barth was thrown by Russian billionaire Roman Abramovich.)

So was Gaddafi there? An article by Brazilian celebrity/gossip columnist Vivi Mascaro, in Portuguese, reported on the event, mentioning "Kadafi" and noting that Lindsay Lohan and George Michael. (Moscowitz also noted Lohan "melting down and dropping numerous f** bombs on the promoter.") According to Mascaro, 300 people were at the party, drinking magnums of Champagne and seated at tables that each cost a cool $12,000. (According to a source who was there, reservations were required in advance and it was pay-your-own-way, but the question remains about who paid for Beyonce. An email to Nikki Beach asking for clarification has not been returned). Beyoncé, for her part, reportedly sang the five songs mandated by her contract, previously reported by Mascaro — and, according to iPhone translator, "leaving the audience vip blown away with her curves and booty nearly albums." (Audience video here and here.)

Reports are now emerging — unconfirmed — that Beyoncé doubled Carey's last-year take with a cool $2 million for the performance. Influential urban blogger Necole Bitchie wrote "I am hearing they were at a party for Libyan dictator Moammar Khadafy's son and Beyonce was reportedly paid 2 million to perform." UK celebrity and entertainment columnist Dean Piper wrote in the Daily Mirror about the Abramovitch party, noting "[m]eanwhile at ­another party at nearby Nikki Beach, Beyonce ­Knowles (watched by husband Jay-Z) was being paid a rumoured six-figure sum by none other than the family of Libyan dictator Col Gaddafi!" Emails and a phone call to Beyonce's publicist have not been returned.

So: Why does this matter? Well, as respectable as Saif Gaddafi is with his charitable endeavors, pedigreed friends and PhD studies, his father is not exactly Mr. Popular — especially after his super-crazy speech at the U.N. in September. Gaddafi's Libya has long been seen as a foe by the U.S., particularly in the 80s when Gaddafi was held to have been a major sponsor of international terrorism, and directly responsible for ordering the 1986 bombing of a Berlin nightclub which killed two U.S. marines — for which President Ronald Reagan ordered airstrikes on military targets in Tripoli, including the Gaddafi compound, where Gaddafi's baby adopted daughter Hannah was killed. Gaddafi was also thought to have been a sponsor of Black September, which perpetrated the 'Munich Massacre' at the 1972 Olympics — and, of course, there was Pan Am 103. The shorthand for the flight is Lockerbie, from the town in Scotland where the it fell, but the flight was en route from Heathrow to JFK. Of the 243 passengers and 16 crew members killed in that bombing — plus 11 people on the ground — 190 were Americans, including many students returning home from studying abroad. Don't read the "Victims" section of the Pan Am 103 Wikipedia page if you don't want to choke up. It's tough reading.

Performing for Gaddafi may not have seemed a big deal for Carey and Jay-Z last year — 20 days later, Carey was in Washington serenading newly-inaugurated President Barack Obama — but this year, the wounds of Pan Am 103 have been ripped open anew with the release of Megrahi, and Gaddafi's first visit to the U.S., both of which angered the victims' families greatly and catalyzed a wave of backlash against Libya's role in the bombing 21 years later. And while President Obama made history this summer by becoming the first U.S. president to shake hands with the Libyan dictator — after all, Libya renounced WMDs and is trying to re-enter the international community, and the U.S. finally dropped its sanctions against the country — Gaddafi was not invited to Obama's September reception for world leaders attending the U.N. Assembly because of the Megrahi release and that so-called "hero's welcome."

So: should Beyoncé care about any of this? Shouldn't she be entitled to play a fun show in a glamorous locale with her husband and friends? The U.S. no longer has sanctions against Gaddafi, after all. Should it fall to Beyoncé to uphold a higher standard? Or, in the wake of the Pan Am bomber release — and the scary terrorism near-miss of Northwest 253 on Christmas — is the timing just a little off? (And more bad timing: Gaddafi's brother, Moutassim Bilal Gaddafi, known as Hannibal, was reportedly involved in a violent domestic dispute with his wife in London last week.)

It's early yet — as I said this story is still unconfirmed, and just starting to trickle out — but there are signs of backlash on Twitter (@DarlingJadey: "Beyonce performed for Gaddafi's son. She needs help ASAP." @LolaCheri: "no but seriously tho why is bey performing for a Libyan dictator neway? &last yr they booked mariah? how U doin Moatessem al-Gaddafi? baha!" @MomVsWild "WTF!Is this true,was Beyonce per4ming 4 the Gaddafi Family last night?Did she 4get about the Lockerbie Bombing & 200+ ppl died?") This may be unfairly singling out Beyoncé for something that Carey and her own husband did just last year, within a rarefied group of high-powered people for whom it's clearly not an issue. But still — she's an all-American superstar with multiple endorsement deals across the board, who just recorded a version of "Proud To Be An American" — and the Gaddafis are a family with a pretty chequered history. A $2 million payday is pretty sweet, but depending on who paid it, it may leave a bitter aftertaste.

******
Translation of Portuguese article by Vivi Mascaro above, translated by Maisa Fonseca:


New Year's eve in St. Barths: Beyoncé's show and Lindsay Lohan in the audience in a party at Nikki Beach

Beyoncé and Usher's performances. Only three hundred people, like the Libyan Kadafi and Linday Lohan. Magnum Champagne. In short, that was the New Year's eve party at Nikki Beach, in St. Barths, one of the most exclusive parties in the planet.

Who attended the party had to pay the minimum amount of US$ 12 thousand each table, which didn't scare away names like George Michael, Nizan Guanaes and Paul Allen, one of Microsoft's founders.

As the blog said before, Beyoncé fulfilled her contract: sang only five songs, leaving the audience speechless with her curves and her near-Brazilian sway. The Brazilian stylist Márcio Vicentini got excited and went to the stage to dance with the singers. Her husband Jay-Z was also there.

(Translation notes: Mascaro used the expression 'rebolado quase tupiniquim' to describe part of Beyonce's performance. 'Rebolado' is the hip/butt circular/side to side movements that compose a lot of dances, including Samba. 'Tupiniquim' is an adjective we use to describe native Brazilian things. The journalist was saying her moves could be almost considered Brazilian-like.)

Update: Mascaro's initial report that Microsoft Founder Paul Allen was at the party was incorrect. According to a source with direct knowledge of the situation, Allen was in the area (as evidenced by Russell Simmons' photo of his yacht) but was not at the Beyoncé-Gaddafi event.

Video from the audience at Nikki Beach (warning, TERRIBLE audio. Combined from here and here):




Leslie Sanchez contributed reporting to this post. Additional translation assistance provided by Gregory Dykes. Photos via BigPicturesPhoto.com via Daily Mail, and Saif al-Islam al-Gaddafi's Facebook page.

Related:
Where In The World Are The Knowles Carters? [Bossip]
Beyonce shows off her strong thighs as she performs in St Barts in a cutaway leotard [Daily Mail]
New Years Eve Pics: Beyonce, Jay-Z & Usher in St. Barts, Diddy In Miami [Necole Bitchie]

(NB: For those of you watching NBC's New Year's Eve special hosted by Carson Daly — the part with Jay-Z and Rihanna was pre-taped.)
This is an opinion piece. The views expressed in this article are those of just the author.