Beyoncé Quietly Uploads Statement on Recent Police Shootings: 'This is a Human Fight'
Beyoncé has one of the most carefully curated personas in popular culture. Every photo she posts to her Instagram page is a treat for her fans because she does not take the sharing of her private life lightly. Every interview she chooses to sit for is a huge deal; it reverberates throughout the publishing industry. She hires personal photographers to follow her so she can vet every picture. Earlier this year, her runaway hit album, Lemonade, was widely praised as being the most authentic work she has created. It seemed to signal a new era of Beyoncé, one that was more open, honest, and raw.
The lead single, "Formation," caused a big stir when it was released. After all, the imagery she chose — and, make no mistake, she chose it because she is in control of every part of her image and brand — to accompany its debut live performance at the Super Bowl was very much inspired by the Black Panthers. In the "Formation" video, too, she made a statement about police brutality, especially against people of color. That was not the first time she's used her oh-so-meticulous platforms to speak out about the issue, though. She used Instagram to address the riots that ensued in Baltimore following the death of Freddie Gray.
Why is all of this important? Well, as mentioned, Bey doesn't just post any old thing. She puts thought into her content. She only shows what she deems valuable enough to be shown because she sees her elevated platform as something of importance. Today, following the deaths of Alton Sterling and Philando Castile, she touched on the police brutality topic yet again, proving that the issue is persistent and remains as important as ever to her. This time, however, she went straight to her website.
This appeared on beyonce.com today: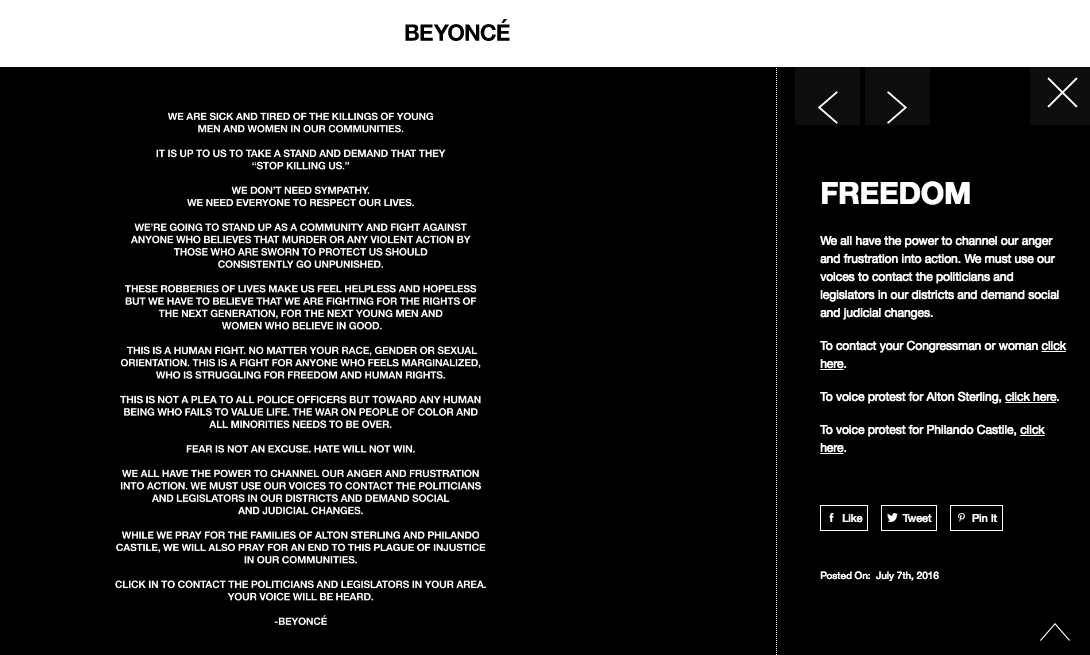 The 11 paragraphs detail her thoughts on what the black community must do to prevent further violence and includes her belief that "This is a human fight. No matter your race, gender or sexual orientation, this is a fight for anyone who feels marginalized, who is struggling for freedom and human rights."
She included links for her fans to contact their representatives and make their voices heard.
As this week goes on, it becomes clearer that more and more people are stepping up to use whatever platform they occupy to advocate for what they think is right. Castile's girlfriend used Facebook Live. Beyoncé used a website millions of people will click on over the next few days. They both did what they could.
[image via screengrab]
For more from Lindsey: Twitter. Facebook.
Have a tip we should know? tips@mediaite.com