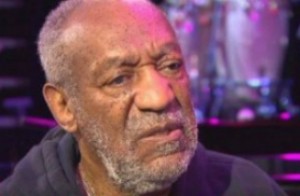 Whether or not Bill Cosby is ever charged, convicted or successfully sued for any of the horrendous things he allegedly did to woman doesn't matter. That's because, following the Associated Press and The New York Times' recent articles covering the recently released 2005 deposition, anything remotely resembling a "reputation" has been razed from existence.
Thanks to the Washington Post's Wednesday article covering further aspects of the deposition, however, it's all about to get a whole lot worse. Some of the things this man reportedly said while being questioned are, erm, horrible. F*cking horrible.
So what else, pray tell, does Cosby say? For starters, there's his detailed description of the kinds of young models he liked to dine with in his Cosby Show dressing room:
They should be from out of town and "financially not doing well," Bill Cosby told Sue Charney, a New York modeling agency owner. Not making it big yet, but full of potential.

"It's a very, very good meal, probably better than anything they've had the time that they're in New York," Cosby boasts.
Of course, one of the two grossest things to come out of this mess are the image of Bill Cosby, "expert" seducer:
"I'm a pretty decent reader of people and their emotions in these romantic sexual things, whatever you want to call them," he testified.
"I didn't ask her to stay all night and she didn't ask if she could stay all night. . . . I don't think there was any spirit in what had happened of wanting to stay all night."
And Bill Cosby, "expert" on human sexuality and anatomy, especially in regards to young women:
Cosby conjures his own vernacular to describe his sexual encounters, and when recalling a night with Constand, he calls himself "one of the greatest storytellers in the world." At one point, he seems to map a woman's body, as if he were a sexual cartographer, speaking of the "question zone" (her stomach, just above the top of her pants) and a place "somewhere between permission and rejection" (between her legs).
"The act of the penile entrance is something that I feel the woman will succumb to more of a romance and more of a feeling, not love, but it's deeper than a playful situation."
Yet let's not forget two of the worst highlights of the WaPo story, the first being Cosby's recounting of the time he apologized to an accuser's mother over the phone:
"I'm apologizing because I'm thinking this is a dirty old man with a young girl," he says during the deposition. "I apologized. I said to the mother it was digital penetration."
(Imma let "digital penetration" sit with you for a minute.)
The second? When Cosby and the prosecuting lawyer argue over the precise definition of "masturbation."
[h/t the Washington Post]
[Image via screengrab]
— —
>> Follow Andrew Husband (@AndrewHusband) on Twitter
Have a tip we should know? [email protected]