Bill Kristol: Rahm "Conveniently" Decided Mayor Of Chicago Was Lifelong Ambition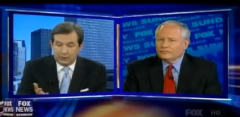 Bill Kristol thinks there is more to Rahm Emanuel's exit than meets the eye. On Fox News Sunday this morning Chris Wallace wanted to know whether President Obama could hope to achieve some bipartisanship after the midterms. Kristol responded that he thought it was a definite possibility now that some of the more "arrogant" and polarizing figures (Emanuel, Summers, Orszag) in the administration were departing, before veering off into this little bit of conspiracy theorizing.
I love how the whole media has decided to accept Rahm's story that he's always wanted to be Mayor of Chicago. He grew up in the suburbs, went to college in New York, worked in Washington D.C., went back to Chicago in 1999. I think you could Google Rahm Emanuel and never find him saying a word about being Mayor of Chicago until it conveniently became his lifelong ambition so that they could give him a nice excuse for leaving the White House.
Or not. Here's what happens when you Google "Rahm Emanuel" "Mayor Of Chicago": you get this Jonathan Alter Newsweek article from Sept. 7, just after Richard Daley announced his retirement, which notes Emanuel has been talking about this since last year:
He told me and a bunch of other people last year that he would run if Rich Daley decided not to seek a seventh term. After his dream of being the first Jewish speaker of the House was thwarted by his taking the job of White House chief of staff, he switched his goal to City Hall.
Meanwhile, a quick glance at Emanuel's Wikipedia page will lead you to this Telegraph article from June — long before anyone knew of Daley's intentions — which says basically the same thing:
Mr Emanuel has privately expressed a readiness to run for mayor of Chicago, which is also his home town though he was never part of the Obama set and did not endorse the then senator in the Democratic primary in 2008. That would however depend on Mayor Richard Daley stepping down when he is up for re-election in 2011.
Nevertheless, the lesson here according to Kristol is: Don't underestimate Obama's willingness to get rid of people (presumably after creating fictional lifelong ambitions for them). Clip below.
Have a tip we should know? tips@mediaite.com