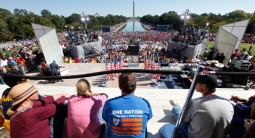 Rally numbers are the new sports statistics! According to every major media outlet yesterday's big tent One Nation rally did not manage to draw as many people to the National Mall as Glenn Beck's 8/28 Restoring Honor rally despite the fact they had media powerhouse Ed Schultz as a featured speaker! From the New York Times:
Noting that they began planning their rally in April, organizers said they were not responding to a march organized by Glenn Beck, which drew enormous crowds to the front of the Lincoln Memorial on Aug. 28. But they acknowledged that their hope was to draw an even larger crowd to Saturday's event. Significant areas of the National Mall that had been filled during Mr. Beck's rally were empty. In a broadcast on Thursday, Mr. Beck criticized the liberals' march, saying his supporters paid their own way to drive to Washington, while labor unions chartered hundreds of buses to ferry demonstrators to Saturday's rally. Mr. Beck's rally resembled a religious revival, but Saturday's event was overwhelmingly a political and policy pep rally, although it largely avoided partisan language.
And from the AP: "Organizers claimed they had as many participants as Beck's rally. But Saturday's crowds were less dense and didn't reach as far to the edges as they did during Beck's rally. The National Park Service stopped providing official crowd estimates in the 1990s."
You get the point. Beck's rally was bigger, quite a feat considering all the so-called "communist" support the One Nation rally received! Perhaps the secret socialists are not quite as fearsome a force as some people have led the public to believe.
Another thing. Beck's supporters may also be more tidy. Much was made following the 8/28 rally about how clean attendees had left the National Mall. So perhaps you will not be surprised to hear that yesterday's rally goers allegedly left it a total mess. Video 'proof' pulled from YouTube below (I was at Beck's rally but not at this one, so can't confirm the difference on this point).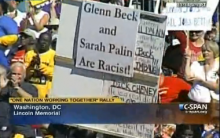 One more thing. A number of sites have posted galleries of the signs at yesterday's rally (see here and here) and generally speaking they are of standard political/union fair. However, I'm pretty sure if CSPAN had caught anyone on the Mall at the 8/28 rally waving a sign equivalent to the 'Glenn Beck and Sarah Palin are racist' sign that popped up on yesterday's coverage we would have been reading and hearing condemning coverage about it on the MSM nearly every day since.
Other than that I guess all there is to say is over to you Jon Stewart!
'Trashy' vid below.

Have a tip we should know? tips@mediaite.com