Bill O'Reilly Knows the Person Trump Should Pick as VP If He Wants to Win: 'That's the Only Choice'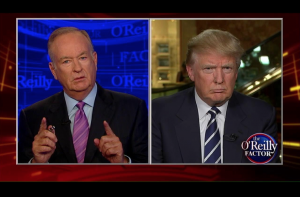 Dana Perino bravely entered the depths of The No Spin Zone Thursday night to discuss the likely, or at least possible, Vice Presidential choices for the party frontrunners. With the lion's share of New York primary delegates going to Hillary Clinton and Donald Trump, the topic is rapidly coming into sharp focus as each candidate looks to lock up the nomination pre-convention.
"There is a strong bench across the country," Perino told host Bill O'Reilly. "So if you're a New York guy like Trump, you probably need a conservative westerner."
Although the Republican Senator from Alabama Jeff Sessions is frequently mentioned as a potential Trump VP selection, O'Reilly identified the "only person" Trump would have to choose in order to beat Clinton in the fall:
New Mexico Governor Susana Martinez.
"There is only one choice if he wants to win the White House, only one person," O'Reilly said confidently. "That is the only choice — with all due respect — if Mr. Trump wants to be President. [Martinez] cuts across all the ethnic boundaries. She's very bright. She is a Republican conservative."
However, O'Reilly may not have been aware that just this week, Governor Martinez made a bit of news herself for doing the exact thing that could make a potential ticket an unlikely reality: she sharply slammed the real estate mogul for his rhetoric on immigration.
At an event at the home of David Koch, Martinez's comments were "a remarkably strong rebuke of the GOP front-runner," according to the Washington Post. WaPo continued:
She told the crowd of about 60 wealthy GOP backers that, as a Latina, she was offended by Trump's language about immigrants. Noting her years working as a prosecutor on the Mexican border and now as a border-state governor, Martinez said Trump's plan to build a wall and force Mexico to pay for it was unrealistic and irresponsible, according to multiple people in attendance.
Governor Martinez had previously backed Florida Senator Marco Rubio in the race; according to POLITICO, she has even refused to confirm that she would back Trump at all if he is the eventual nominee. Looks like Trump has got some apologizing to do and some bridges to mend if he is going to have a shot in the general election, at least according to his vanilla milkshake pal.
—
J.D. Durkin (@jiveDurkey) is a columnist at Mediaite.
[image via Fox News screengrab]
Have a tip we should know? tips@mediaite.com