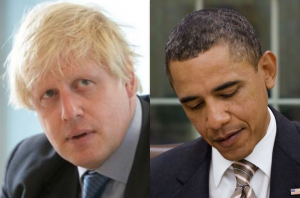 The Mayor of London today is under fire for an op-ed he penned for The Sun where he identified President Barack Obama using a controversial line that has many crying foul.
The subject at hand was the long rumored, and eventually debunked, claim that President Obama removed a bust of Winston Churchill from the Oval Office (even whitehouse.gov has weighed in on this one, calling the claim, "100% false. The bust still in the White House. In the Residence. Outside the Treaty Room.") In his piece for The Sun, which was published Thursday, Boris Johnson wrote:
No one was sure whether the President had himself been involved in the decision.

Some said it was a snub to Britain. Some said it was a symbol of the part-Kenyan President's ancestral dislike of the British empire – of which Churchill had been such a fervent defender.
Although it seems as if Johnson is using the "part-Kenyan" distinction as a way to demonstrate the types of rhetoric that have been used against the President in the past, he finds himself in hot water today and facing criticism from the UK Labour Party.
Yvette Cooper, a Member of Parliament in the Labour Party, slammed Johnson in response, saying, "As ever, it's more bad judgment from Boris Johnson. Is this really how a man who wants to be prime minister should be talking about the president of the United States?" Even Chuchill's grandson Nicholas Soames, a Conservative Party Member of Parliament, called Johnson's writing "appalling".
Johnson has long advocated for Britain to leave the EU, a referendum debate that the President weighed in on when he touched down there for the Queen's 90th birthday celebration. He urged the British public to "stick together" with the rest of the European Union, a stance that would further aggravate Johnson, whose op-ed continued in strong defense of Churchill's legacy.
—
J.D. Durkin (@jiveDurkey) is a columnist at Mediaite.
Have a tip we should know? tips@mediaite.com