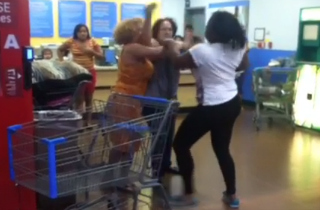 It's that time of year again: Black Friday. Millions of people gather at various retail stores to push and shove their way to a $98 TV set or a 50%-off iPad.
As usual, things got ugly in some places. So ugly that hashtags #Walmartfights and #Brawlmart had thousands of tags overnight.

One video went viral showing an unidentified Walmart full of shoppers swarming a discount item and fighting, shouting, and shoving to get out of the crowd. Police even swoop in to take down a shopper who got physical:
Another #Brawlmart tagged item showed a video of a Walmart in Mayaguez, Puerto Rico. As the "This was a nice try at crowd control… but then," one twitter user said, teasing a video showing a stampede-like crowd storming the doors:
#Brawlmart also spread to Fort Worth, Texas, where this video shows shoppers getting frighteningly rough reportedly over a DVD player, a Garmin GPS, and a variety of other items:
And in Rialto, Calif., a fight broke out over line-cutting in the parking lot of a Walmart before the store opened:
This fight on Vine might take the cake, however, as two women struggle for some unknown reason while a third gets involved by hitting someone with the tiniest object possible:
Meanwhile, in Bangladesh, workers reportedly set fire to a Walmart/Gap supply factory, not as some sort of "proletariat" revolution or anything, but in response to rumors that one of their own co-workers was shot and killed by police.
— —
>> Follow Andrew Kirell (@AndrewKirell) on Twitter
Have a tip we should know? tips@mediaite.com