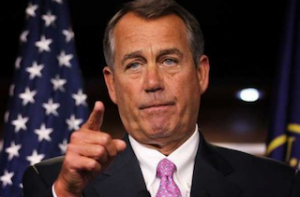 President Obama ultimately embraced the term "Obamacare" as an affectionate description of his signature first-term achievement the Affordable Care Act. But it seems unlikely that he'll feel the same way about "Obamaquester."
House Speaker John Boehner coined that new word today on Twitter when he sent it out as a hashtag, along with a link to his website where he makes the case that the president is to blame for the upcoming automatic spending cuts. He even changed his profile photo to a page from Bob Woodward's book that claims the idea of the sequester came from White House Chief of Staff Jack Lew.

Boehner's statement reads as follows:
"Today the White House released a detailed report outlining the consequences of the sequester proposed by and insisted on by President Obama. But the question remains: what is President Obama willing to DO to prevent it? Republicans agree the sequester is the wrong way to cut spending, and agree the consequences are harmful. That's why Republicans have twice passed legislation to replace it with common sense cuts and reforms. But without a plan to prevent his sequester, the president is out of excuses."
The goal of the tweet was evidently to rally the Republican base around the term #Obamaquester on Twitter. This in turn could either pressure President Obama to come up with a deal favorable to the GOP or, if the sequester does go into effect, cement the idea that it's potentially devastating consequences are Obama's fault.
The official RNC Twitter account as well as that of House Majority Leader Eric Cantor have picked up the campaign, helping to push Boehner's message.


But at the same time, commentators on the left end of the spectrum have been using the hashtag to mock Boehner and other Republicans for voting for the "Obamaquester" of which they are now trying to wash their hands.



Will the #Obamaquester hashtag help Republicans pin the blame for the sequester on President Obama? Or will it backfire?
—
>> Follow Matt Wilstein (@TheMattWilstein) on Twitter
Have a tip we should know? tips@mediaite.com