Brain Bleach Alert: Viral Attack Video Shows Newt Gingrich As 'Kim Kardashian Of The GOP'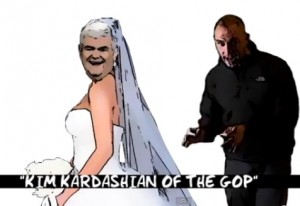 A new viral attack video by WorldNetDaily's Molotov Mitchell that savages former House Speaker Newt Gingrich, mostly over his personal life, has been blasted to registered Republicans and Independents all over Iowa, according to a press release. The video is pegged to Gingrich's three marriages, and his refusal to sign The Family Leader's controversial "Marriage Vow," but the punchline is the disturbing sight of Newt Gingrich's head on Kim Kardashian's body. There's no way to un-see that.
RELATED: Mainstream Media Completely Misses Anti-Romney Subtext Of Mitt Romney 'Attack' On Newt Gingrich
The video is three minutes of blistering anti-Newt, set to a thinly-disguised rip-off of Gary Glitter's Rock & Roll, Part 2, and consists mostly of below-the-belt attacks on Gingrich's personal life:
From the press release accompanying the video:
A Sioux City pastor, prominent in the defeat of three Iowa Supreme Court justices last year for their same-sex marriage ruling, announced today that a hip-hop video calling Newt Gingrich "the GOP's Kim Kardashian for his many infidelities on marriage – gay, straight and his own" would be delivered, via text messaging starting today at 10 am, to every registered Republican or non-aligned Iowa voter with a cell phone on record.
That pastor, Rev. Cary Gordon, is the gay-hating preacher who led the effort to defeat three Iowa Supreme Court Justices over their ruling in favor of same-sex marriage. He recently endorsed Rick Santorum, who was one of only three candidates to sign The Family Leader's controversial "Marriage Vow."
RELATED: GOP Debate Sponsor Said Black Children Worse Off Under Obama Than During Slavery
While the ad is good for a laugh (and a shudder) from people who already don't like Newt Gingrich, the former House Speaker's personal history is well-trod ground that doesn't seem to be affecting his poll numbers at all. The fact that Gingrich refused to sign that wingnut "Marriage Vow," with its slavery-nostalgic preamble, is actually to his credit, somewhat. Of course, he and most of his GOP rivals did participate in a debate sponsored by the vow's creators (Mitt Romney and Jon Huntsman abstained).
As creepy as the image of Newt Kardashian is, though, Rev. Gordon and The Family Leader are creepier, still.
Have a tip we should know? [email protected]