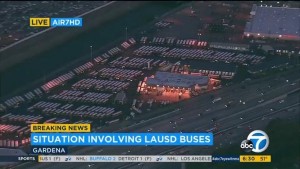 All schools in the Los Angeles Unified School District were closed on Tuesday due to a "credible terror threat."
According to KTLA, school district officials and police confirmed the news early Tuesday morning. A short press conference was held after the initial announcement.
Reporter Jason Martinez tweeted about the terror-related closure, as well as the possible reasoning behind it.
According to reporter Ben Shapiro, the LAUSD shutdown involves some 900 schools and around 640,000 students.
UPDATE–10:11 a.m. ET: According to the Los Angeles Times, a bomb threat was called into one of the LAUSD's board members.
The threat involved backpacks and bags being loaded with explosive materials at several LAUSD schools.
UPDATE–10:23 a.m. ET: The threat made to the school board member was delivered electronically, and didn't target a specific school or schools in the LAUSD. In addition, the FBI is now involved.
UPDATE–10:27 a.m. ET: Watch the press conference below, via CNN.
UPDATE–11:49 a.m. ET: According to the Associated Press, New York City officials received a similar threat but determined it was a hoax.
A law enforcement official affiliated with the investigation told the AP that the electronic threat allegedly came from overseas.
UPDATE–12:11 p.m. ET: CNN reports investigators have already tracked the threat sender's IP address to Frankfurt, Germany.
UPDATE–12:39 p.m. ET: New York City Police Commissioner Bill Bratton told reporters that whoever sent the electronic threat to NYC, which is reportedly similar to the threat Los Angeles received, was reminiscent of plot patterns in the TV show Homeland.
In addition, CNN reports that the threat was riddled with spelling and capitalization errors suggesting that its author wasn't a Jihadist. For example, "Allah" was not capitalized.
UPDATE–1:11 p.m. ET: School superintendent Ramon Cortines told reporters at a press conference that he "could not take the chance" regarding whether or not the threat was a hoax.
Mediaite will update this post throughout the day as more information becomes available.
[h/t KTLA]
[Image via screengrab]
— —
>> Follow Andrew Husband (@AndrewHusband) on Twitter
Have a tip we should know? tips@mediaite.com