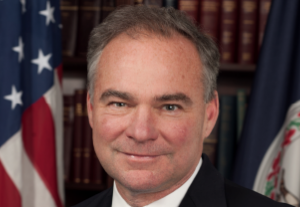 It's official: Tim Kaine is the Democratic party's presumptive Vice Presidential candidate.
The former Secretary of State Hillary Clinton, who heads into the Democratic National Convention next week in Philadelphia to become the first woman nominated by a major political party, texted supporters to inform them of her decision Friday evening.
"I'm thrilled to announce my running mate, Tim Kaine, a man who's devoted his life to fighting for others," Clinton tweeted.
Kaine has served as the Senator from Virginia since his election in 2012. People have long expected Old Dominion to play a crucial role in the general election electoral map, and the move is expected to help Clinton's chances given Kaine's popularity in his home state.
The Veepstakes of the Democratic candidate have been widely speculated in recent weeks, with contenders such as New Jersey Senator Cory Booker and Massachusetts populist Senator Elizabeth Warren also in the running. Ohio's Sherrod Brown, a state Senator since 2007, was also popularly discussed as a viable candidate to help the ticket claim the Buckeye State.
Kaine is expected to join Clinton on stage at a campaign rally event tomorrow in Miami.
I'm thrilled to announce my running mate, @TimKaine, a man who's devoted his life to fighting for others. -H pic.twitter.com/lTVyfztE5Z

— Hillary Clinton (@HillaryClinton) July 23, 2016
If you're wondering where you've seen him before, he was once chair of the DNC, was very much not in favor of President Barack Obama heading into Syria via executive action, and has always had a sunny disposition when it comes to inter-party relations. You can bet that his reputation as a friendly guy who is loved by people in both parties will be brought up many, many times from here on out.
Think he sounds boring? Remember: Joy Behar says that doesn't matter outside of the bedroom.
Have a tip we should know? tips@mediaite.com