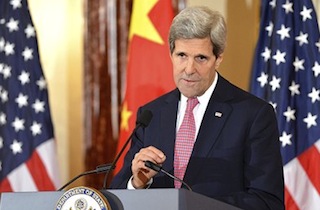 Sources told the Associated Press that "negotiators appeared on the cusp of an agreement" in the much-anticipated and reviled Iran nuclear negotiations in Vienna.
Per the AP:
Diplomats familiar with the talks said most of the nuts and bolts of implementing the deal have been agreed upon. But over the past week, issues that were previously on the back burner have led to new disputes. Among them is Iran's demand for a lifting of a U.N. arms embargo and its insistence that any U.N. Security Council resolution approving the nuclear deal be written in a way that stops describing Iran's nuclear activities as illegal.

A diplomat familiar with the negotiations said disagreements also persist on how long some of the restrictions on imports of nuclear technology and other embargos outlined in any new Security Council resolution will last. The diplomat, who demanded anonymity because the diplomat wasn't allowed to discuss the confidential talks, said restrictions will last for years, not months.
The talks, which aim to constrict Iran's nuclear development program in exchange for an easing of sanctions, have been ongoing for more than a year and plotted by Secretary of State John Kerry for even longer than that.
Sources cautioned that the deal is provisional, and must still meet with approval by the P5+1 nations. And that's before Congress gets its hands on it.
Nonetheless, President Barack Obama, perhaps seeking to lower expectations, recently said that the chances of Iran and the negotiators actually reaching a deal was less than 50%, and that he was willing to walk away. Conventional wisdom has it that Obama sees this deal as his primary foreign policy legacy, leading some to believe he would accept a weak deal.
If you're trying to read the tea leaves as to the substance of the final provisions, the AP reported that Iran is set to start "celebrating," so…
[h/t Associated Press]
[Image via screengrab]
——
>> Follow Evan McMurry (@evanmcmurry) on Twitter
Have a tip we should know? tips@mediaite.com