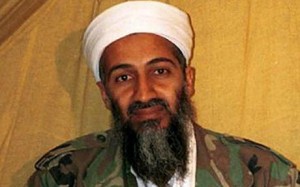 At roughly 9:30 p.m. the White House released word that President Obama would make a statement to the nation via live broadcast regarding national security. CBS News has reported that the House Intelligence committee aide has confirmed that Osama Bin Laden is dead. U.S. has the body. Update: All U.S. news outlets are also confirming the report that bin Laden's body is now in US possession.
The report was first tweeted by CBS News Jill Jackson: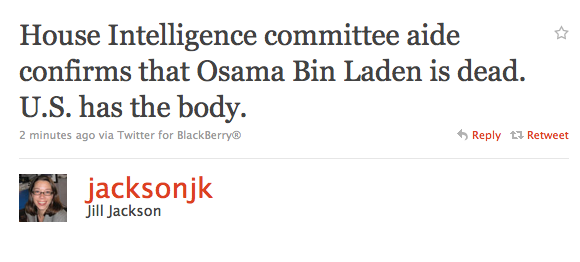 ABC News has the report:
Right now no other news outlets are confirming this report, but speculation on Twitter is rampant that bin Laden will be the subject of Obama's rare late Sunday night speech. Fox News' Jennifer Griffen reports that bin Laden was allegedly killed by a U.S. missile strike roughly a week ago.

Osama bin Laden, hunted as the mastermind behind the worst-ever terrorist attack on U.S. soil, has been killed, sources told ABC News.

His death brings to an end a tumultuous life that saw bin Laden go from being the carefree son of a Saudi billionaire, to terrorist leader and the most wanted man in the world.

Bin Laden created and funded the al Qaeda terror network, which was responsible for the Sept. 11, 2001, attacks on the United States. The Saudi exile had been a man on the run since the U.S.-led invasion of Afghanistan overthrew the ruling Taliban regime, which harbored bin Laden.

In a video filmed two months after the Sept. 11 attacks, bin Laden gloated about the attack, saying it had exceeded even his "optimistic" calculations.
Fox News and CNN were reporting the news about 15 to 20 minutes before MSNBC confirmed it. Mediaite will have video of Obama's speech as soon as its available.
Have a tip we should know? [email protected]