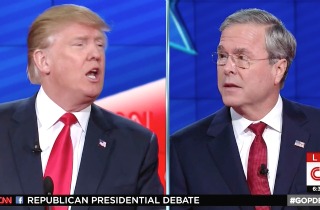 Throughout their many feuds in the race for the 2016 presidency, Jeb Bush has wondered whether Donald Trump is deliberately trying to weaken the Republican Party's image so that a candidate from the left will win the election. During an interview with NPR, Bush took things up another notch by saying that Trump's ascendence has more to do with President Obama than anything else.
While he still lags behind, Bush expressed that GOP voters will eventually recognize Trump's controversial rhetoric as non-productive, and that the mogul's lead in the polls is more of a result of Obama's failures rather than any triumph of his own.
"I would argue that Donald Trump is in fact a creature of Barack Obama," Bush said. "But for Barack Obama, Donald Trump's effect would not be nearly as strong as it is. We're living in a divided country right now, and we need political leaders, rather than continuing to divide as both President Obama and Donald Trump [do], to unite us."
Bush went on by noting how Trump has a pattern of filling the media narrative with outrageous comments, appealing to emotion over facts and political reasoning, and moving on when his words are challenged or played out. After that, Bush continued to say that the mogul's ideas cannot last under their current levels of scrutiny, and said his own campaign's survival does not rest on whether he can win the GOP primaries.
"I don't think I have to win any of them, because we're organized in every state," Bush explained. "So depending on how it plays out, if someone rolled the table, then that would have an impact. Be hard for anybody else to — to overcome it."
Listen to the interview with the audio above, via NPR.
[H/T NBC]
[Image via screengrab]
— —
>> Follow Ken Meyer (@KenMeyer91) on Twitter
Have a tip we should know? tips@mediaite.com